Calendar Fundraiser
Start Fundraising for your orgnization, your favorite animal shelter, school team, and more!
Tips to Create a Calendar for a Fundraiser
At Presto Photo, we like to inspire people, groups, or organizations with ideas on how to create amazing products. These ideas we have listed can be used to create calendars for Schools, PTA's, Animal Organizations, Sports Teams, or most any other fundraising activity. You can use our information as a starting off point or combine it with your own ideas to create exactly what you want.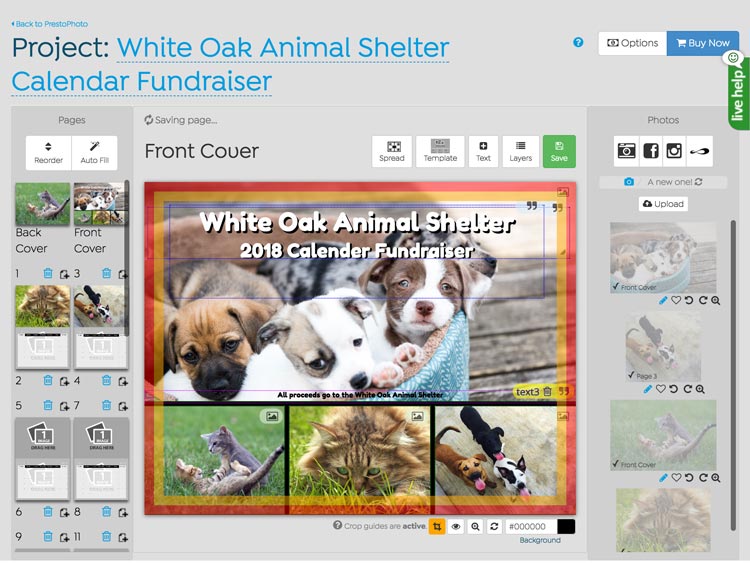 Shown: Designing with our own Online Designer tool.
Designing the Calendar
One of the first choices you'll want to pick is the size of the calendar. You're standard sized calendar would be our 11"x8.5" calendars, the same size as a horizontal sheet of printer paper if that helps to imagine it. We also offer two square sizes, in 8.5"x8.5" and 12"x12". Whichever you choose, all of our Calendars are Wire-O bound to make it easy to flip through month after month. If you need any more information, check out the main Photo Calendars page or look in our Product Catalog
Maybe you, a student, or your sister-in-law, happen to have a flair for design and know the ropes of Adobe Illustrator, Photoshop, or InDesign, go ahead and make up a pdf yourself and upload it. Check out our PDF Specs page if you need some more information regarding this process.
If you don't have access or knowledge of these programs, we have a great Online Designer tool and templates for you to use.
Ideas for your designs
Take a look at some other calendars you like, or pay attention to the calendars that show up around you, especially ones that tell a story about a organization or group. Use their ideas for yourself to help make a better calendar.
What is your organization about? Is it about the people it helps, a specific product or service, or the people in the organization itself? Think about these things when coming up with photos or information for the calendar.
If you have access to a DSLR camera to the one on your phone, start snapping photos that tell your story. Also look through photos you've already taken, or that others may have taken (and ask their permission!) the may be useful for the calendar. If you can get photos that are at least 300DPI, that would make for the best possible product. Look at this page for more information on DPI.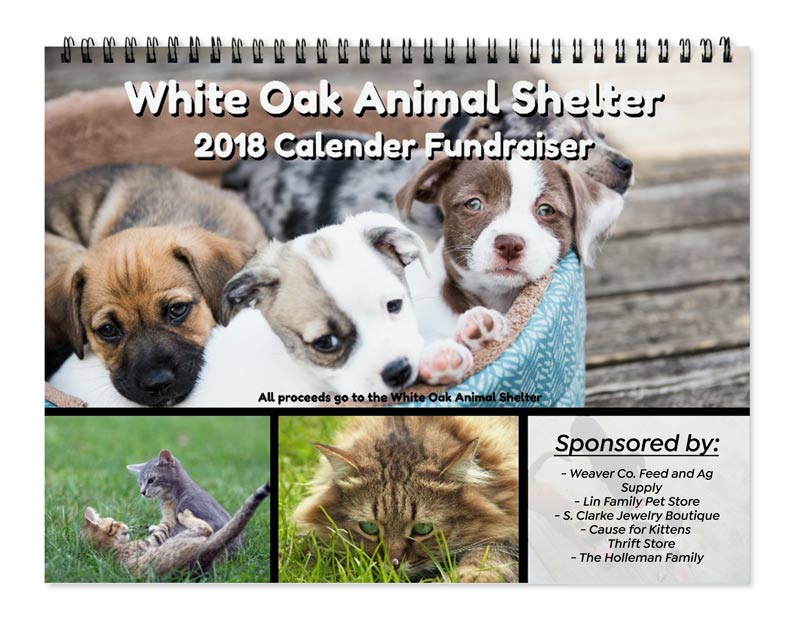 Sponsorship
Something to consider is drumming up sponsorship to offset printing costs for the calendar. This can vary from project to project, but any little bit will help in offsetting your printing costs, and creating more profit towards your fundraising goal.
Here is a list of places you would want to look into for sponsorship for your Fundraiser Calendar:
Banks or Credit Unions
Auto Dealerships or Shops
Pet Stores
Local Businesses
Coffee Shops
Doctor Offices
Realty Companies
Restaurants
Boutiques
Sports Goods aStores
Anyone in the immediate circle of the organization (members, contacts, customers, relatives, parents, or any supporter of the organization) is also an avenue to explore.
Be Prepared
If you are thinking about sponsorship, set a date to sell advertizing spots and make sure you stick to that time line. If you are putting ads in at the last minute without a proof, mistakes are most likely to be made and make your advertisers unhappy with their participation.
Inform whoever is selling these ads if they aren't directly involved with he organization about your causes and reasons to be selling this calendar, and get their input on what's working and what isn't. Together you may come up with a better idea of how to go about selling ads or think of new avenues not listed here.
If they are designing their own ads, let them know what size they need to design for. If they design a full page ad and it's squished down to 1/8th of it's designed size, they won't be happy and could withdraw support from this project or future projects.
If you are designing the ads for them, you may want to look into finding a designer to help with the project if you haven't already for the design of the calendar. A sloppy ad makes your calendar look bad and the company look bad, no one wins.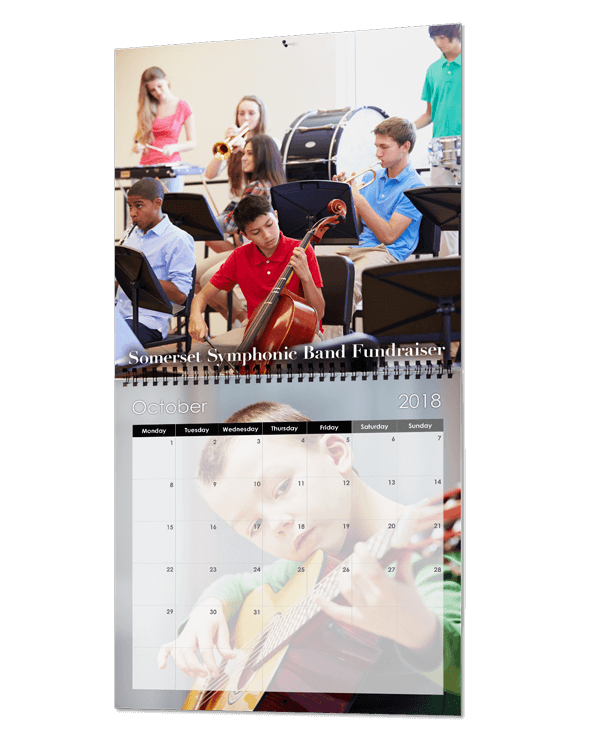 Proof the Calendar
Order a proof of the calendar with time to make edits before you put the calendar on sale. If you can get someone who hasn't been involved with the design of the calendar to look at it with fresh eyes as well as people involved with it the whole way through, you all may notice a spelling error or design flaw you may have looked at through the whole project without realizing. Any sponsors may want to see a proof before the final calendar is released as well, and even if they don't ask you may want to send a photo or whole proof to them as a courtesy.
If you plan to do a bulk order of 20 or more calendars, it would be unwise as well to go without proofing the calendar.
If you make a change to the calendar and still have time to do one more proof, get another proof if possible to make sure everything is how you would like it. Try to eliminate all possible issues with the calendar before you share links to sell the calendar or order in bulk, and you will have much less to worry about when the day to sell the calendar comes.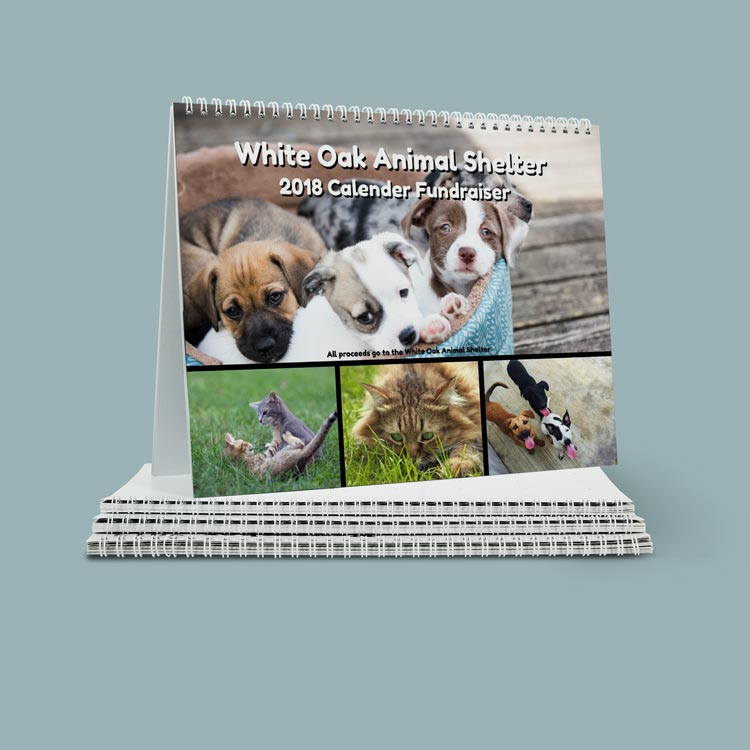 Bulk Discounts
A great way to increase profits is ordering in bulk yourself and selling locally. Look below at some of our discounts, and check out our Price Catalog for more information and a price calculator.
| Quantity | Discount |
| --- | --- |
| 5-9 | 5% |
| 10-99 | 10% |
| 100-499 | 15% |
| 500+ | See More |
Sell Online
We offer online sales of any product you make through our website, whether it's a PDF you designed yourself or a calendar you made in our online designer. Copy the link of the product in the online bookstore and share it on any social media platform you happen to use to get the word out. A word of caution: if you have not proofed the product by the time you share the product online, people could order a calendar with a typo or error, so please proof the product thoroughly before sharing!
If you prefer to not sell it online, you have the option to keep your product private as well.
An example of a great Calendar Fundraiser produced through Presto Photo: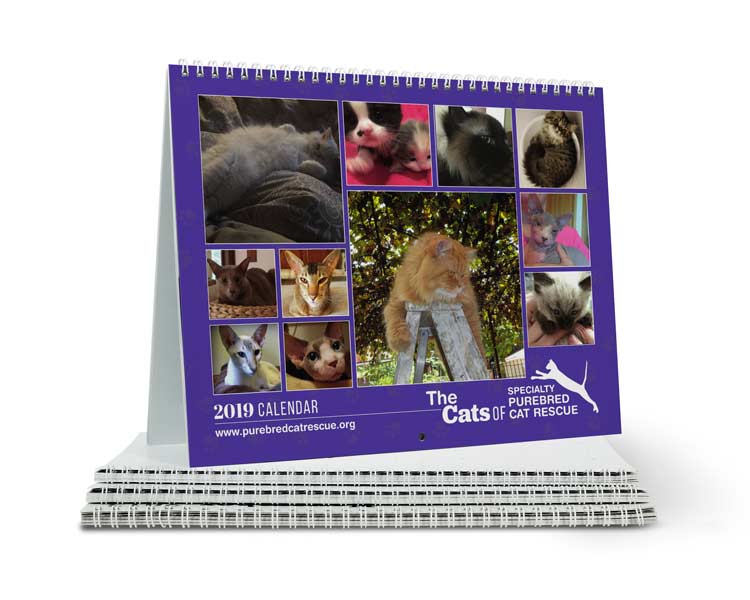 Specialty Purebred Cat Rescue 2019 Calendar
One of our favorite Fundraising Photo Calendars we get every year is this one from Specialty Purebred Cat Rescue. They are the largest rescue organization of its kind in the Midwest, and the whole Photo Calendar is full of purr-fect cats. If you still need a 2019 Photo Calendar, we suggest this one!
Get your Calendar
With all of that in mind, we hope we've put you on the path to making an amazing Fundraising Calendar. We here at Presto Photo can't wait to see what you whip up!
Good Luck!