App Beta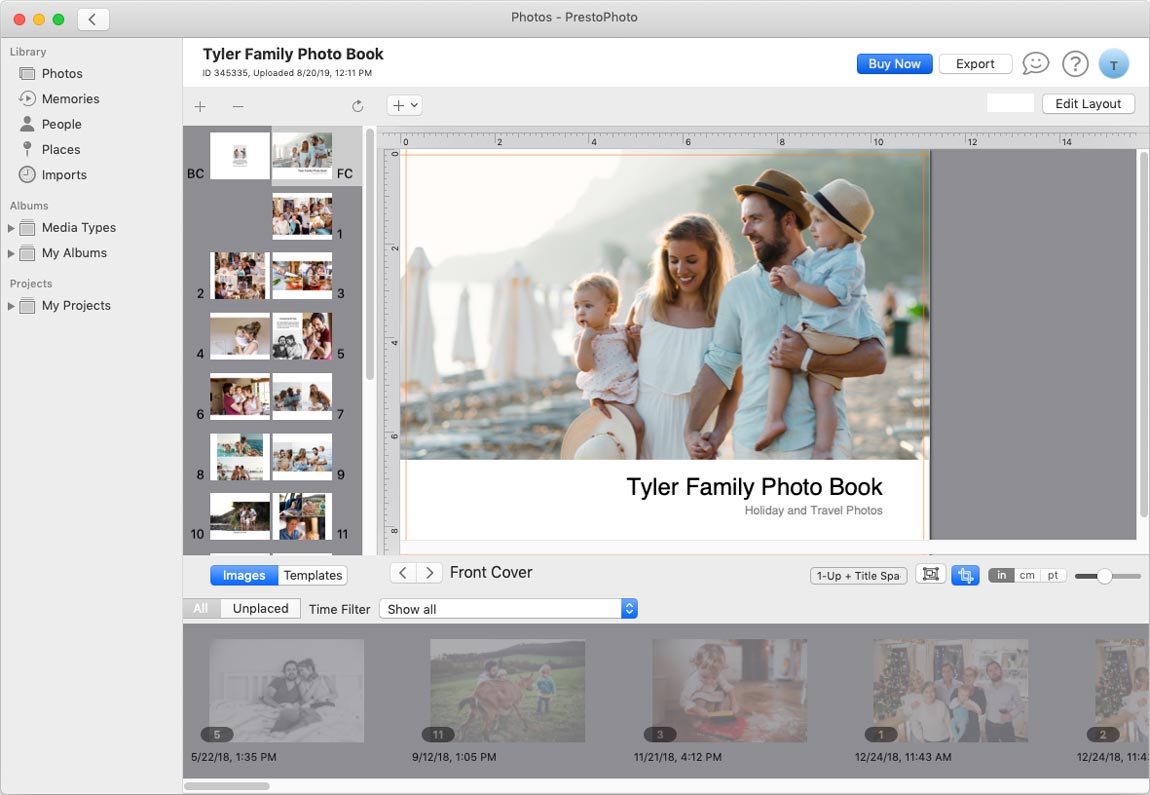 Getting Started with PrestoPhoto App 2.0 Beta
Want to take the beta for a test drive?
Download Latest Beta
---
Start your Project
Make sure you have the PrestoPhoto Version 2.0 Beta downloaded and installed. If you are using Version 1.1 of the app, you will not be able to follow along with this tutorial. You'll want to start by selecting your photos for your photo book project. Once selected, right click on any photo, go to Create Book PrestoPhoto.
You'll have a few options here, but to make a photo book choose Photo Books, then select your orientation (Landscape, Square, or Portrait), and then select the size you would like your photo book to be. With 24 sizes to choose from, we're sure we have the right one for you.
Photo Book Design Basics
After selecting your product options, you'll end up in the design portion of our app. On this page, you'll see your books pages in the left hand side box, all of the photos in your photo book project in the bottom scrolling box, and to the right you will see your current page you are editing.
The first two pages that show in the page setup preview are the Front Cover (FC) and the Back Cover (BC). From there, the book starts with Page 1 on the right side, as most all books that we print have a endleaf that goes on the left of Page 1.
Photos Drawer
Below is the photos drawer, where all of the photos you selected for your project will show up. All of the images that are grayed out are currently placed on pages, making it easier to tell if you've already used an image or not. The page number it's on is in the bottom left hand corner of the thumbnail.
Page Layout
In the largest area of the window is the current selected page layout. This is where most of the work is done. You can zoom in and out of this working area with the sliding bar in the top right.
Adjust Image Size and Crop
To adjust how your image is displayed in the current layout, just click on the image. You can hold your click and move the image around in the image box, or you can adjust the slider that appears below the page layout to hide the slider again and bring back the icon to add Images and Text
Edit Layout
Click the Edit Layout button to gain control over your image boxes. You can make them bigger, smaller, a different size orientation, you can even rotate them.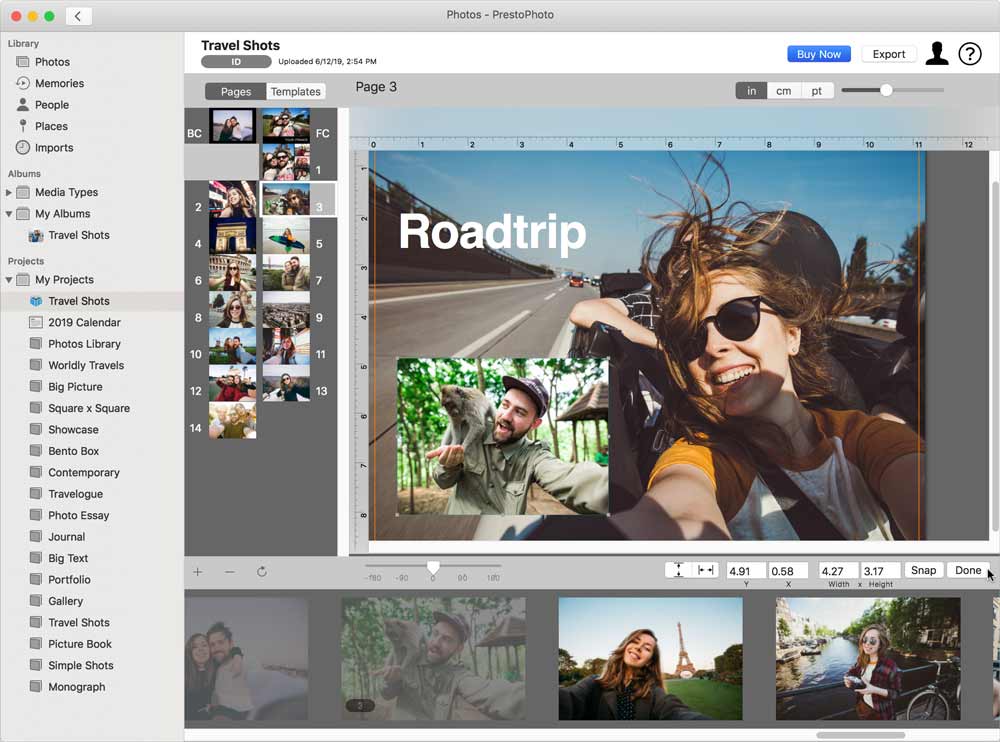 Add Images and Text
Below the page you are currently editing is a button that you can click that has two options:
Add Text
Add Image
When you click Add Text, a new text box will be added to your current page layout. Double click on the box to type text and bring up the text editing options. When you are finished, you may want to click on the gray background to get access to the icon again.
When you click Add Image, a new image box will be placed on your current page layout. To edit the size and placement of that image box, you'll have to enter the Edit Layout mode.
Rearrange your Pages
To rearrange pages, select the page you want to move in the left hand box, and drag it to the new place in the book you would like it placed.
Want to be a part of the Beta test for the new PrestoPhoto App?
Choose a Background Color
To the left of the Edit Layout button is the Background Color button, where you can change the background color of your current page you are editing.
Add a Background Image
To add a background image to a page, you you'll need click the and select Add Image. Click Edit Layout and make the image the size of the page by dragging the corners, then put your background image in. When you're done, you can right click the image, then select Arrange -> Send to Back. This will send the full size image to the back below all of the other images placed on the page, but above the background color of the page.
Apply Template Pages
Select the page you want a template applied to, so that it is showing in the right hand box. Click the Templates button beside pages above your page layout view, select a template, and a list of template options will be displayed. Click on a template and it will be applied to the current page.
Adding and Deleting Pages
Below your book pages preview to the left is a to add pages to your book and a to remove them. The will add new pages after your currently selected page one at a time.
The icon will ask to confirm if you want to delete your current selected page before it deletes it.
Undo and Redo
If you need to undo an action on a page, you can go to the menu above and select Edit -> Undo to undo your last actions on the current page. If you go back too far, below is the option to Redo which you can redo something you've undone. When you switch between pages, this starts fresh so you won't undo an action made on another page you aren't currently on.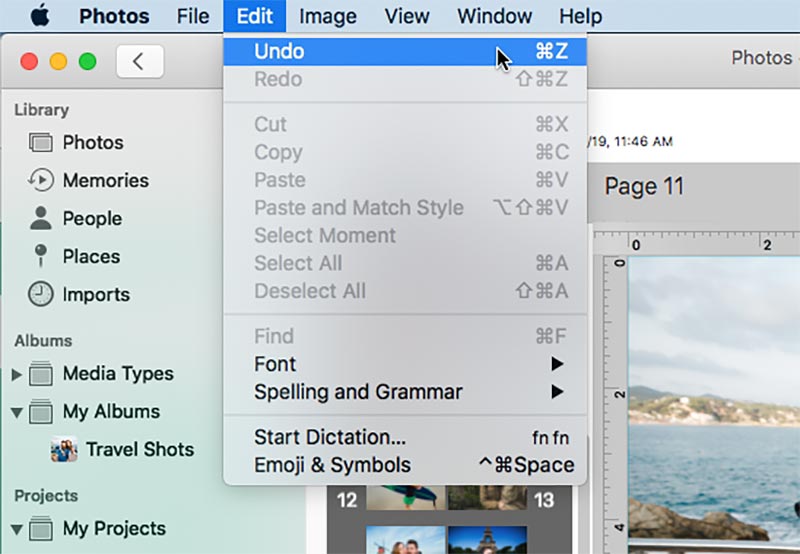 The icon will ask to confirm if you want to delete your current selected page before it deletes it.
Add more Photos to a Photo Book Project
If you need to add more photos to your project, select them from your Photos library, right click and go to Add To. There you will see a list of albums and projects you can add photos to, including the photo book project you are currently making.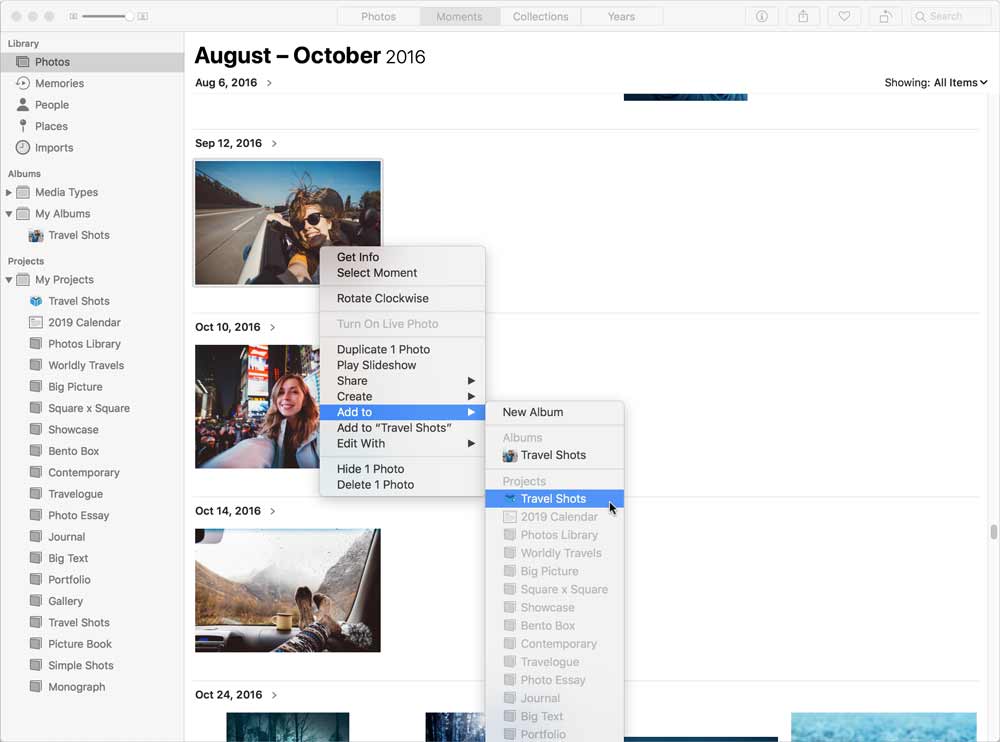 Export a Photo Book PDF
When you are ready, you can export a PDF to upload to our website for print. In the top right hand corner beside Buy Now (currently disabled), there is an Export button which will export your project to PDF for purchase. Just choose your file name and where you would like to save the PDF, and click Save.
Features and Fixes
July 10, 2019 at 1:39 PM BUILD 190710 #8ce02788
Added new photo book project creation options:

Entering book page length instead of adding pages manually once book is created
Choice to Autofill book with photos or place photos yourself
Choose your template to start or fill the book with 1 page photo spreads

Fixed issue with TouchBar enabled MacBook Pro users crashing when adding text
Added new photo tray Time Filter feature, so you can sort through batches of photos with ease based off when the photo was taken.
Other bug and UI fixes
New PrestoPhoto macOS App version 2.0 now in Beta!
Sign up for our beta tester newslist: