Photo Greeting Cards
High Quality Photo Greeting Cards.
---

Get Started Fast! Watch the Screencast
This short video will teach you how to quickly create your own custom photo cards. Use our own pictures with our beautiful drag and drop templates.
---
Ready to Frame.
Our cards allow for printing on all 4 sides so each card can include a full size print ready to frame as a bonus gift.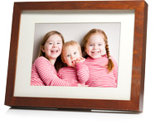 ---


Go Green With Your Cards.
7 Billion greeting cards are printed every year, nearly all of which end up getting thrown out. We have designed our cards ready to frame. They last longer, and are a thoughtful gift.