Seamless Layflat Photo Book

About Our Seamless Layflat Photo Books
Our Seamless Layflat Hardcovers allow your books to reach their full potential. Create beautiful 2-page spreads that flow across the pages without worrying about losing anything in the gutter!
What is a Seamless Layflat Photo Book?
A seamless layflat photo book is a book printed in a specific way to prevent the page curl you see with most comercially bound books. This page curl is more evident for books with less pages, and makes it hard to see images and text closer to the gutter (the interior of the book where the pages meet and fold).
How flat does a Layflat Photo Book get?

See for yourself. We print on Lustre 450 photo paper for our seamless layflats, and it's impressive to see in person. Somewhere inbetween a matte and glossy finish, it's extra thick and sturdy. It's bound together using an all new process that allows for the interior gutter of the photo book to lay completly flat, no matter what page you're turned to. All of this together creates an amazing photo book experience for all kinds of projects:
Family Photo Books
Travel Photo Books
Portfolio Printing
Corporate Printing
Photography and Art Books
Sizes Available
Below are all of the sizes we currently offer for our seamless layflat photo books:
---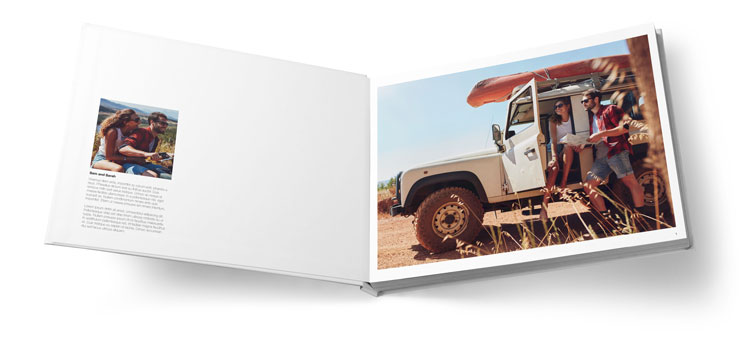 Interior Flap Printing for Layflat Photo Books
Now in for our Layflat Photo Books, print your interior dust jacket flaps straight onto the interior of the book. We think this is just Flap-tastic! Just order a Aperture book as a seamless layflat photo book with dust jacket flaps in your PDF file, and we will apply this new feature automatically for you.