A Quick and Easy Holiday Dessert Recipe
Cream Cheese Bundt Cake? Yes, please!
Need a quick, easy recipe for Thanksgiving (or in general?), look no further! We've got a recipe that will ease all of your pot luck woes. Check out this easy Thanksgiving recipe below, or save our prettified version for simpler access!
Cream Cheese Bundt Cake
Ingredients:
2/3 cup dark brown sugar
2/3 cup granulated sugar
1 tablespoon cinnamon
Two 12-ounce tubes refrigerated buttermilk biscuits
One 8-ounce package cream cheese, cut into 20 cubes
¾ cup butter, melted
Directions:
Preheat oven to 350 degrees F. Spray a 12-cup bundt pan with cooking spray; set aside. In a medium bowl, combine the sugars and cinnamon; set aside.
Slice 10 discs of dough from each tube of biscuits. Set discs on a flat surface and set one cube of cream cheese in the center of each piece of dough. Wrap edges of dough up and around the cheese so all that is visible is the top side of cream cheese cube. Place 10 dough-wrapped cheese cubes, cheese-side-up, in bottom of prepared pan.
Top dough pieces with half of the sugar mixture and half of the butter. Top with the remaining dough-wrapped cheese cubes, cheese-side-down, the remaining sugar and remaining butter.
Bake in the preheated oven for 40 minutes. Invert onto a serving platter and serve.
Note: Feel free to play with the proportions of sugars! Making the recipe 1/3 cup and 1 cup dark brown sugar will make the cake much richer. You can also use regular brown sugar for a lighter taste, but we highly recommend the dark. Or at least Shantelle does. ;)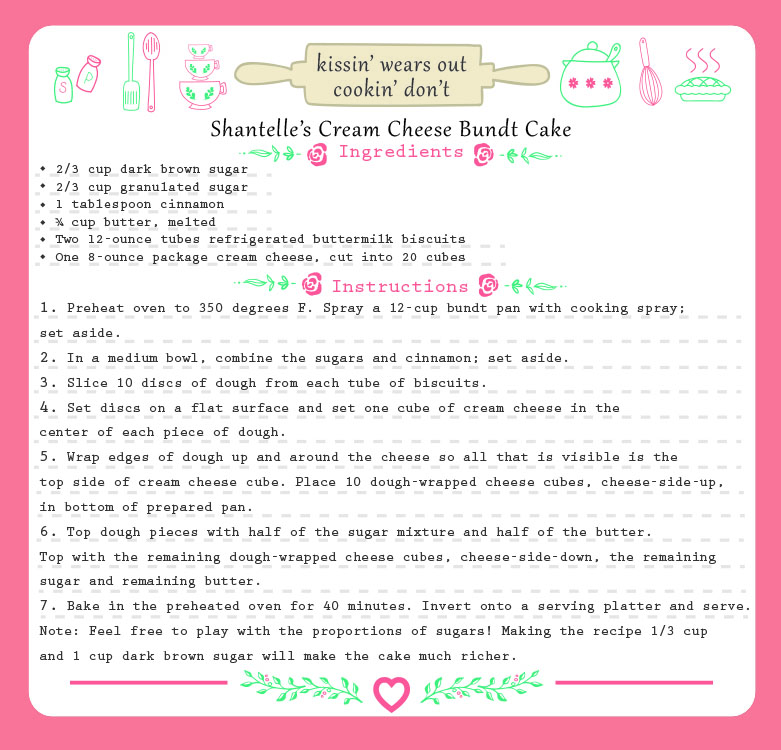 That's all folks! Our favorite quick and easy holiday recipe that you could imagine. Six ingredients and loads of sugar? We can't think of anything better for the holiday season! Enjoy with family or by yourself. We won't judge.