Create And SELL Your Own Photo Book Online With PrestoPhoto
Learn how to create and sell your own photo book online with PrestoPhoto's photo book creation process and link ordering system.

Photo by William Boggs | Instagram: @whboggs
Author: William Boggs
Create Your Own Custom Photo Book With PrestoPhoto
Start With These Articles On Designing Your Photo Book
Read our article on How to Create a Photo Book in the 2020s
Also learn about Pro Tips for Designing Your Photo Book Cover
Once you're feel that you know all you need to know about creating a photo book, click here to start creating your photo book
Sell Your Photo Book Online
When it comes to listing your photo book for sale online, you have several options. Let's take a look at some of those options!
FREE Option: PrestoPhoto Online Bookstore
Once you've uploaded your book and finalized your cover design, you will move on to the 3rd step of creating your project: Bookstore
Tick the checkbox that reads "Make this product available for purchase by others."
Next, you'll need to make your profile Public so other people can view your products. To do this, click Change User Information Access and under the User Information dropdown, select Public
Now you can set your sales commission and size and paper options to be made available to your customers.
When you're finished, click on Buy Now to be taken to the store page where you and your customers can order your photo book!
Copy the link to this page and send it to your friends, family, or clients so they can order their own copies.
By selling through PrestoPhoto, you liberate yourself from the need to manage inventory and website maintenance, and as an added bonus it's free to use!
Third Party Ecommerce Website Options
If you wish to sell your photo book or other prints through your own website, you can!
If you do not already have a website, I recommend Shopify or Squarespace for their ecommerce functions! Of course, these website options will cost you, but offer much more flexibility and customization! Squarespace is a great option if, in addition to selling your photo book, you would also like to have an online portfolio of your work. Shopify has even more ecommerce features.
With one of these 3rd party options, you can order books on demand (as customers place orders), or at a discounted price if you order in bulk. Of course, ordering in bulk means you will need to keep track of your own inventory, but ordering at discounted pricing means you can generate higher profit margins on your sales!
Another pro to using your own website to list products is that you can customize your site to tailor its aesthetic to your own brand or style.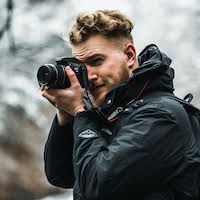 William Boggs
William is a professional photographer, filmmaker, and marketer. When he's not working at PrestoPhoto, he's utilizing his talents in other creative ways and helping small businesses grow! Learn more about him on his website at Boggs Creative or follow him on Instagram at @whboggs