Susan Hanes: Traveling The Caucasus and Central Asia
A Story on Susan Hanes, World Traveler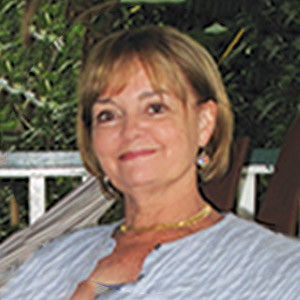 "The books that you made for me are just wonderful. I just wanted to tell you what a pleasure it is to do business with you!"
Traveling The Caucasus and Central Asia
Susan Hanes and her husband Jake are independent world travelers and amateur photographers. They have lived on five continents, are always looking for the next adventure, and they always seek destinations that offer insights into the culture, art, and classical architecture of an area. They prepare for their ventures by extensive research and reading. Once they are underway, Susan writes for about two hours a night; She gains great pleasure from creating photo journals based on her daily records. Currently living in Chicago, they recently spent six weeks traveling to The Caucasus and Central Asia. Upon their return, Susan decided to document her adventures with several books from PrestoPhoto. Throughout her beautiful 4 volume book series, she tells us about her adventures abroad: the theme of connecting with people despite language and cultural barriers are prevalent. Tour guides began to feel like old friends, and hotel keepers were familiar and friendly faces. Below are some of her travels in her own words - straight from the very books she printed!
Connections Across Cultures and Borders
"There is probably no region on earth that encompasses more diverse cultural and linguistic societies or has a history of greater political rivalry and instability than the five countries that we visited in the Caucasus and Central Asia. The six weeks of our trip actually consisted of two phases. For three weeks, we traveled in the South Caucasus countries of Azerbaijan, Georgia, and Armenia. After transiting through Istanbul, we spent three weeks in Uzbekistan and Turkmenistan. All of these former Soviet Republics gained independence in 1991 and all are tied historically to the legendary Silk Road. At the same time, each has a unique character, culture, and history; with ex-Communist strongman in control and Russia rebuilding its sphere of influence, each is moving towards an uncertain future. Central Asia was the site of the Great Game, and today, that Game is revving up once again, as geopolitical competition expands between Russia and the West. This is a complicated, unstable region, as it has been throughout its long history. It is also a fascinating one to explore. We visited historic sites and experienced the diverse culture and geography of the region. And as always, we met warm and hospitable people who reminded us again that we are all one world."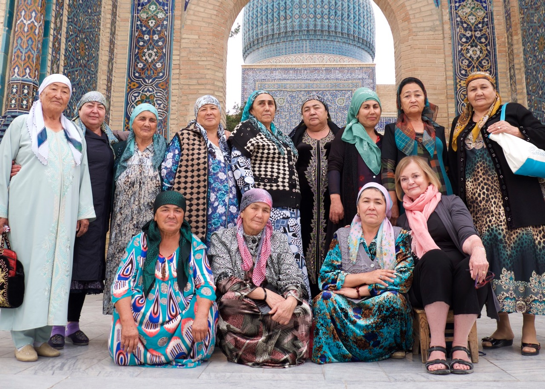 While shopping in the hotel lobby boutiques, Susan met a couple from Saudi Arabia, Fatima and her husband, Sa'id. A day and a half later, as Susan and Jake passed the same couple in their hotel lobby, Fatima said that she wanted to give Susan something. Taking a small gold bracelet from her wrist, she fastened it around Susan's wrist, saying that she would always remember her. In the short time that they had known each other, a connection had somehow been made between them that they both understood. Her gift will always be a reminder of the special connections they have made.
"...As I write with freezing fingertips, I marvel at what we have seen and done together, and how my husband has made me conscious of what I am capable of doing. People don't travel like this anymore; not people our age, anyway. So what if I arrive back to Chicago looking like the last time I slept was 30 hours ago in a yurt in Qaraqalpaqstan? I continue to really experience life, and I realize how thankful I am for the man who has enabled me to do it."
Trips about cultural exploration, and the human connections between each other that goes beyond boundaries and borders - something we here are PrestoPhoto are more than honored to publish for Susan. She even let us know recently how much she loves her books: "The books that you made for me are just wonderful. The quality surpasses any that I have made elsewhere over the years. The paper, covers, jackets, printing—everything—was just beautiful. Your customer service is right on target too. Now on to China in the spring!"
You can view all of the books in her wonderful travel series online. Click below!
Susan Hanes Travel Series: Traveling The Caucasus and Central Asia