September 30th is here: Apple's Photo Book Printing is over
Apple stopped all Photo Book Printing, so what do you do now? Presto Photo has solutions.

By Tim Weaver
Designer at Presto Photo
As of September 30th 2018, you can no longer order Apple Print products directly from Apple, including products like a hardcover photo book, a calendar, and photo prints. This might sound like a scary beginning for October, especially if you've printed books with Apple in the past and still want to print them again. So, what do you do now?
What's happening to Apple Photo Book Printing?
Back in July of 2018, Apple let it be known through a notification in Apple Photos that they were discontinuing all print products by September 30, 2018. This had come as a shock to most of us. Apple didn't provide many details as to what would happen with the Photos app or the photo book projects people had made come September 30th.
Thankfully, Apple has made things easy. In the past, like with Aperture® and iPhoto® photo book printing shut down, you could still export a book made with the software as a PDF and get it printed with another photo book service (and still can to this day!). Thankfully, that is also the case with Apple Photos as well. All your book builder projects are still on your computer, you just can't print your finished product through Apple..
What can I do with my Apple photo book files?
What do you do with those books now that Apple is no longer printing? One of the few options you still have to get an Apple Photo Book printed, especially one printed matching how Apple printed them, would be Presto Photo. Just upload your exported PDF to Presto and fill out all requested details, and you're back in business printing your Apple custom photo book.
If you need any help getting the Export PDF File, here's the steps for Apple Photos:
If you have already upgraded to mac OS Mojave 10.14 and above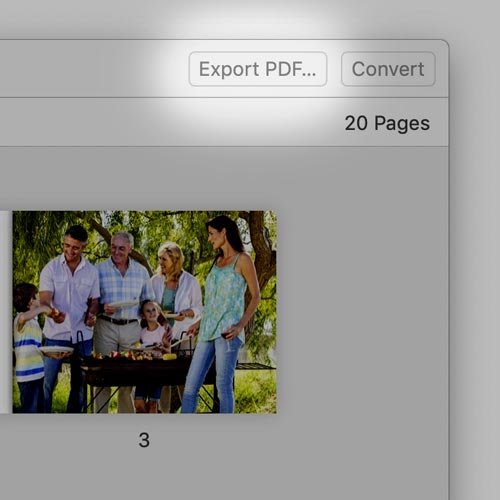 In the top right hand corner of the Apple Photos window, click Export PDF....
If you are still on macOS High Sierra 10.13 or Older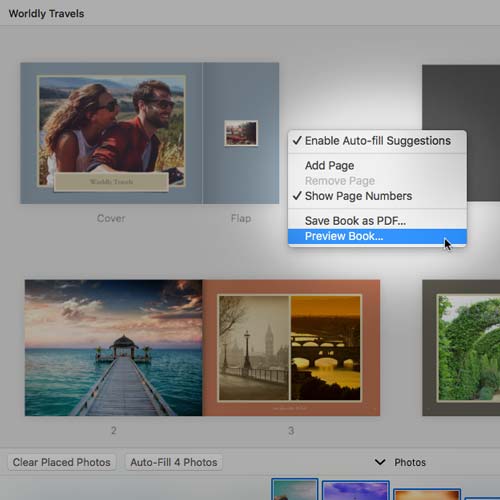 From within the project, CTRL+CLICK (or right-click) on the background and select Save Book as PDF...
If you need any other help, check out our Apple Photos Help Page.
How can I keep making Apple photo books?
As for future quality photo book making, Apple has created a Photos Extension API that printers can tap into. Unfortunately, the current extensions are proprietary and have no flexibility in where you print your book. If you are looking to make new Apple Photo Books, there are options, but you run into the same reoccurring problem with photo book apps and makers that have come and gone: Your book is locked up in a virtual cell. If they go away, you have no ability to take your book to another printing provider. As well, most do not have the same Apple theme templates that Apple did in Photos. So, what should you do?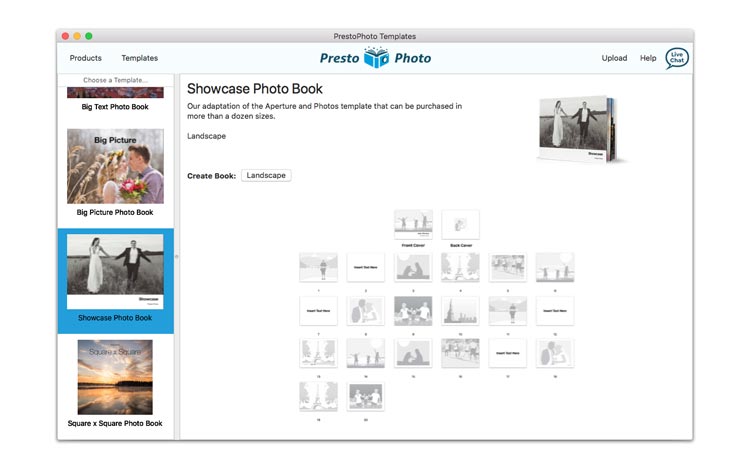 Select your book template with the Presto Photo Templates App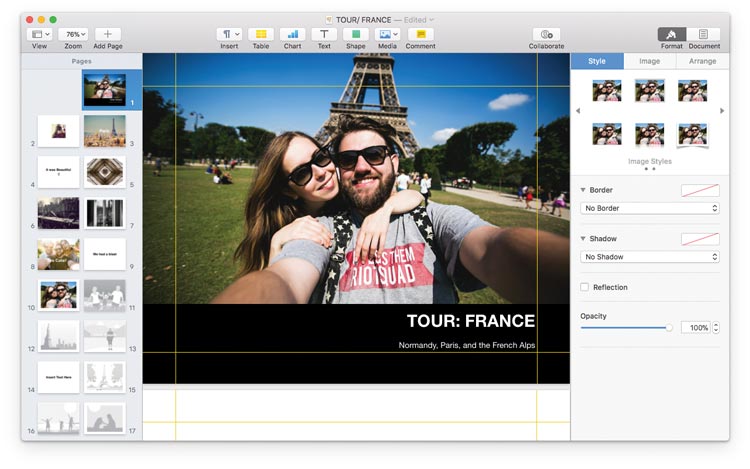 Creating your photo book in Apple Pages
In order to keep your work in your hands, we've created the Presto Photo Templates App. The App works in conjunction with Apple Pages, so you can make high quality books and customize them, including the layout, any way you like. All of the completed book files are controlled by you: store them on your hard drive, a thumb drive, the cloud, or preferably all three. And no proprietary file formats: everything is made with Apple Pages, and can easily be saved as a PDF to reprint whenever and wherever you want.
Your favorite Apple Photos Templates are available as Apple Pages Templates. Either download our app from the macOS App Store or directly from our site.

Direct Download
One last thing to note, if you happen to use Aperture or iPhoto to create your photo books still, you are still in luck: Mojave doesn't change anything for you. Keep on keepin' on making those gorgeous photo books.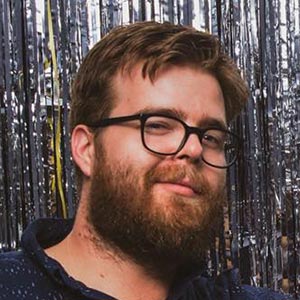 Tim Weaver
Tim is a North Carolina native, extreme book geek, and sometimes thinks he's an artist. When he's not whipping up amazing graphics and designs for Presto Photo, he's probably sipping a coffee with his cat and organizing his art book collection.