Photo Book Graveyard
What to do when your photo book company goes out of business

By Tim Weaver
Designer at Presto Photo
Through the years at Presto Photo, we've seen a lot of photo books companies join the photo book graveyard (MyPublisher, Flickr, and Kodak Gallery to name a few). When these companies shut down, their users' hard work and photo book creations go with them. Hundreds of thousands of photo books locked out of creators' hands, and they can no longer print their photo books or even view them online. How can you prevent this from happening to you? Read on and we'll try to clear this topic up.
"I spent many hours making a photo book, and the company I was using is now out of business. What do I do?"
We have heard this sad story many times over the past 15 years, and the truth is you are likely out of luck. At this point it is best to look to the future, and make some decisions that will prevent a company from trapping all your hard work.
Choose Desktop Software that will allow you to continue to use your software regardless what happens to their website.
Choose a company that allows PDF download so you can reprint a copy elsewhere.
"Am I safer with a big company?"
No. Often people think they may be safer using a well-known company. Unfortunately, whether a company stays in the Photo Book business has no correlation as to whether or not they will continue printing. In the list below, industry stalwarts like Kodak, American Greetings, and Polaroid have all shut down their photo book business. Here are some horror stories form the Graveyard:
MyPublisher had been printing photo books since 1995, and was acquired by Shutterfly in 2013. In 2017 MyPublisher was shut down by Shutterfly, and all software was deactivated, and no edits or reprints were made possible. Even though they had desktop software, the software refused to launch after a final date. They did allow PDF download from the mypublisher.com website for a short while, but within 6 months, 22 years worth of customers' hard work was destroyed..
Apple made a decision to trap users' hard work and prevents project editing of previous projects in Photo 4.0 on Mojave. Your only choice is to convert to proprietary extensions, that themselves may shutdown, and none allow PDF export. Sadly we have heard from many customers who are livid about this short sighted decision. The vaunted "user experience", "eco-system", and famous "user loyalty" has been severely strained by this decision.
Which photo book companies are in the graveyard?
This is a compilation of some of the photo book companies that have gone out of business in the last 15 years and joined the Photo Book Graveyard, as well as a few that are still around. Some were purchased by other companies, some pivoted away from printing altogether, and some just shut down their photo book program for financial reasons. If you've ever made a personalized photo book with any of these companies that are offline, your photo book is in all likelihood locked up and no longer accessible to you. At the top we're adding a list of some of our suggested photo book creation software that do not use proprietary software (software developed by companies that is solely owned by the company) and is still available for use. This allows for something we like to call Freedom of Print, which means you can print your custom photo book anywhere you like, without being locked down to one company for printing.
Company
Status
File Types
Full Editing
Freedom of Print
MyPublisher

Offline

PDF files (No longer accessible), .dime files, Proprietary Software
Snap MyLife Creations

Offline

Proprietary Software
Apple Aperture

Offline

Proprietary Software (PDF Export Available)
(only for macOS 10.14 and below)
Apple iPhoto

Offline

Proprietary Software (PDF Export Available)
(only for macOS 10.14 and below)
MyPicTales

Offline

Proprietary Software
See Here

Offline

Proprietary Software
HotPrints

Offline

Proprietary Software
Kodak Gallery

Offline

Proprietary Software
Photoworks

American Greetings

Offline

Proprietary Software
Pixable

Offline

Proprietary Software
Inkubook

Offline

Proprietary Software
Polaroid

Offline

Proprietary Software
Flickr

Offline

Proprietary Software
OurHubbub

Jostens Photo Books

Offline

Proprietary Software
EuroBook.us

Offline

Proprietary Software
Storybook Creator by Creative Memories

Offline

Proprietary Software
What photo book desktop software is future proof?
This list is a little less scary than the last. If you want to make a photo book with photo book creation software that allows you to control where you print, here's a list of what to use. For more in-depth information about each program if you click on the logo, or just scroll down the page for more information.
| Software | Pricing | Ease of Use | Exports PDF Files | OS Support | Ideal For | Overall Rating |
| --- | --- | --- | --- | --- | --- | --- |
| PrestoPhoto App | Free | Beginner to Expert | | macOS/Mac | Photo Books to 150 Pages | |
| Adobe InDesign | $20.99/mo | Moderate to Expert | | macOS/Mac and Windows/PC | Photo Books to 100 Pages | |
| Affinity Publisher | Free (In Beta) | Moderate to Expert | | macOS/Mac and Windows/PC | Photo Books to 100 Pages | |
| Adobe Lightroom | $9.99/mo | Easy | | macOS/Mac and Windows/PC | Photo Books to 100 Pages | |
| Pixellu Smart Albums | $299 or $16 /mo subscription | Easy to Expert | | macOS/Mac and Windows/PC | Photo Books to 100 Pages | |
| Apple Pages | Free | Easy | | macOS/Mac Only | Smaller Books (20-40 Pages) | |
How do currently active photo book providers stack up?
How do some of the current photo book providers stack up in terms of freedom of print? Below is a roundup of a few key elements you want in a photo book printing company. PDF Import is key, as discussed before with using your own software to create photo book files you own. If you're working on a book for a business client and they need that book again and it gets locked up in the 'Photo Book Graveyard', they aren't going to be happy. Likewise, if you made a large family history book that you may want to edit as time goes on, you want to make sure you have the access and rights to that book.
PDF Export is important for archiving purposes, in case a company were to end up in the 'Photo Book Graveyard', you at least have a file you can reprint your photo book from. Blurb offers a photo book creation tool for desktops, but again, the file format is proprietary and the PDF's that output from the program are not archival PDF files, they come with low resolution (72 DPI) photos that look pixelated and blocky, and completely unusable for print. Nearly no one offers PDF export of their book files, besides Google and us (Presto Photo).
Then we have app support, and each company can get a check for each of their Cloud App or their Desktop App, providing customers with multiple ways to create their books beyond non-proprietary book making software. Finally, we take into account if the company has 10 Years+ in Business, as it doesn't mean they will be in business forever (see above), it at least means they are dedicated to creating photo books for the time being.
| Company | PDF Import | Print Ready PDF Export | Cloud App | Desktop App | 10 Years+ in Business | Overall Rating |
| --- | --- | --- | --- | --- | --- | --- |
| Presto Photo | | | | | | |
| Picaboo | | | | | | |
| Google Photos | | | | | | |
| Shutterfly | | | | | | |
| Mimeo Photos | | | | | | |
| Blurb | | | | | | |
| Adoramapix | | | | | | |
| Mixbook | | | | | | |
| Artifact Uprising | | | | | | |
| Chatbooks | | | | | | |
What happens when a photo book company goes out of business?
When you create a photo book with most photo book creation companies, they store all the photos and book formatting data files on their own private servers (large stacks of computers where companies serve websites and data to users). To be fair, there are benefits to this process: if you were to lose your stored files or pictures (your hard drive fails or computer is lost), they weren't stored on your computer anyway. This makes it easier to reorder a book from any computer, even new ones without your files. This is much less convenient when a business shuts down. No business, no money flowing in, no reason to keep paying for server costs (which can add up dramatically for a large amount of data).
Once the servers are shut down, that's it. There is usually a period of time to order your books one final time, and some companies allow you to download PDF's of your book for this brief window (MyPublisher did this for its users when it shut down), but none of them have had this data available indefinitely. After that, all of your photo books information is gone. Worse than that, when a company buys another photo book company, because they both used their own proprietary photo book software to create and manage their photo books, they tend to only bring over the users' photos. The expense and difficulty to bring the books from one service to the other is astronomical, to the degree that it just isn't worth it to most. The fact that they at least transfer the photo's is good, as transferring stored photos is difficult depending on the amount, but it is a lot easier than photo books.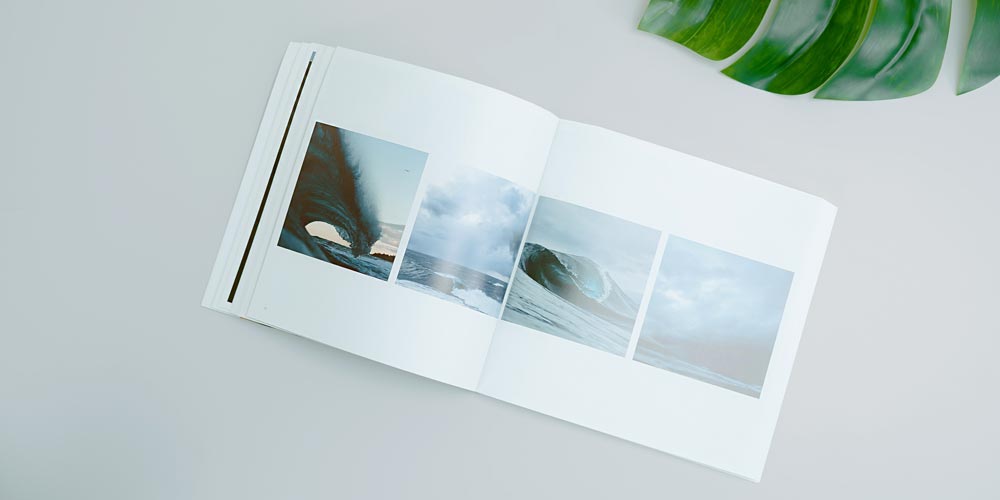 How do you get your photo book back?
If you made a book with a company that is marked offline above, there is a great chance that book's data is gone. Some of these companies didn't go out of business, they were purchased by a bigger company. You can attempt to contact them to see if they still have the files and pictures. In our experience, this is usually not a very fruitful tactic. All of the data for the photo books has been erased.
We get contacted about situations like this more often than we would like. It's very unfair for the photo book creators, and there's nothing we or anyone else can do without a PDF. We don't have access to photo books from companies Offline, the photo book creator doesn't, and no one at that company is left to help them. It's a lose/lose situation through and through, and that's why we're a little jittery about other photo book makers and their proprietary software.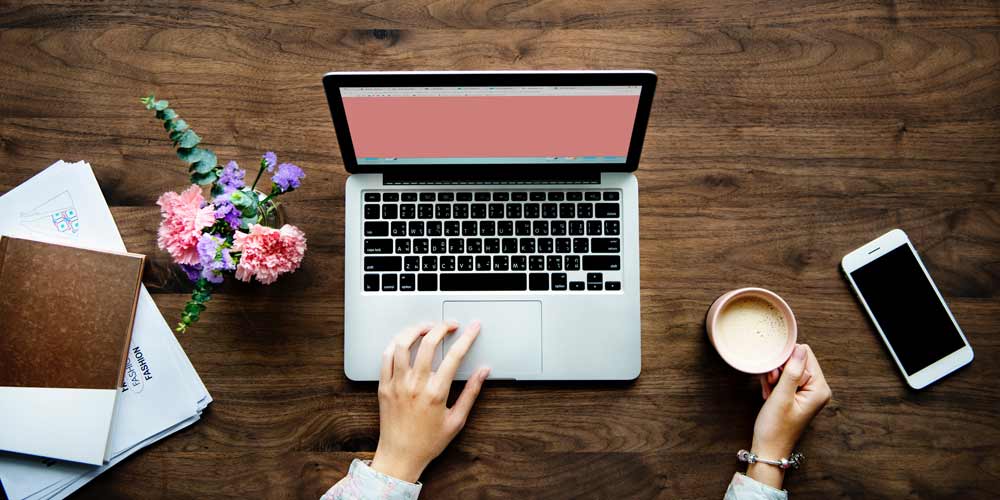 Non-Proprietary Photo Book Creation Software List
Below is a in-depth look at some of the best non-proprietary photo book creation software on the market. Using these programs allows you Freedom of Print, and gives you a way to print and edit your photo book for years to come, regardless of if a photo book printing company was to go out of business, because you can just use another provider. Future proofing your photo books makes for one less headache down the line!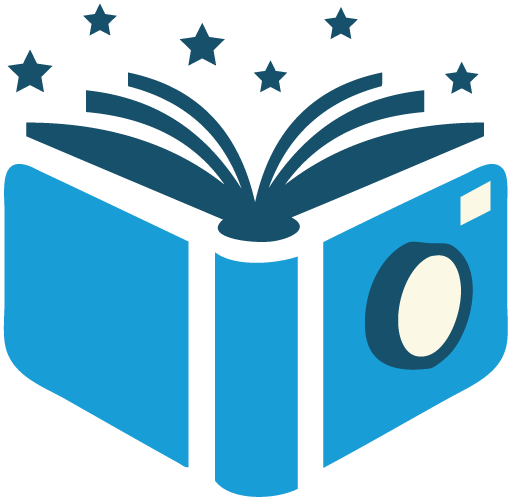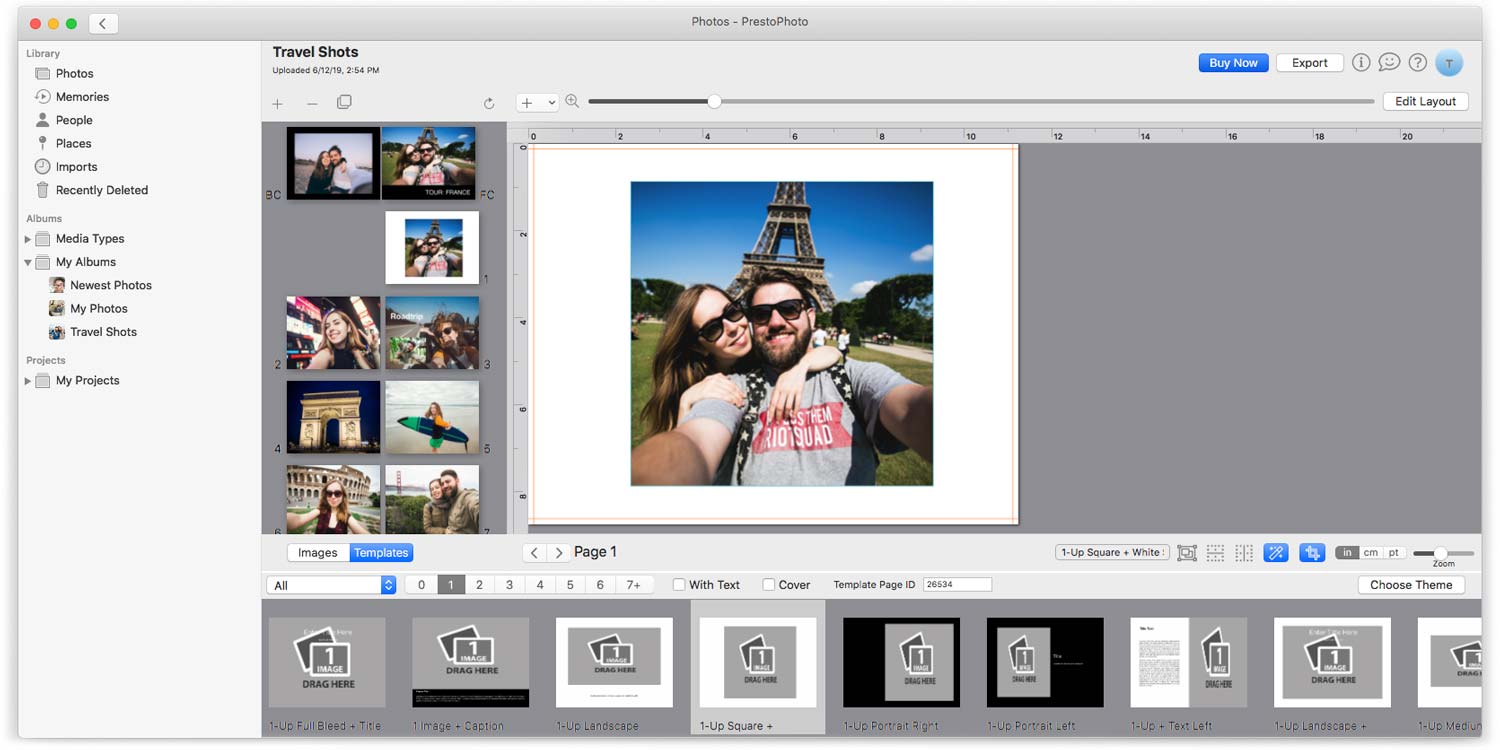 The new PrestoPhoto App 2, a Apple Photos project creation extension, makes it easy to create new Photo Books, Wall Art, Photo Gifts, and Photo Prints. Now available in the macOS App Store, the PrestoPhoto App harnesses your Apple Photos library to create unique, custom made products with your photos. The PrestoPhoto App also allows for some of the most impressive project export options of any book designing software: export in PDF, PNG, JPG, and TIFF formats, which makes it easy to save and preserve your photo books, even get them printed elsewhere if necessary.
Check out our PrestoPhoto App page to find more information about the App and all of it's new features, like Smart Placement using Apple's CoreML, how easy it is to create your photo book, and more.

App Help
Good
Full Layout editing control, easily create your own unique looks
PDF,PNG,JPG, and TIFF Export
Landscape, Square, and Portrait Sizes
Easily look through photos in photo tray with Time Filter feature
Layflat Printing available
Limitations
Cannot add new Master Pages
Cannot add new vector art (like a line or box)
No support for 2 Page Spreads
Ideal for:
Users looking to create new Apple Photo Books
---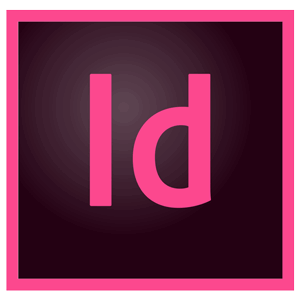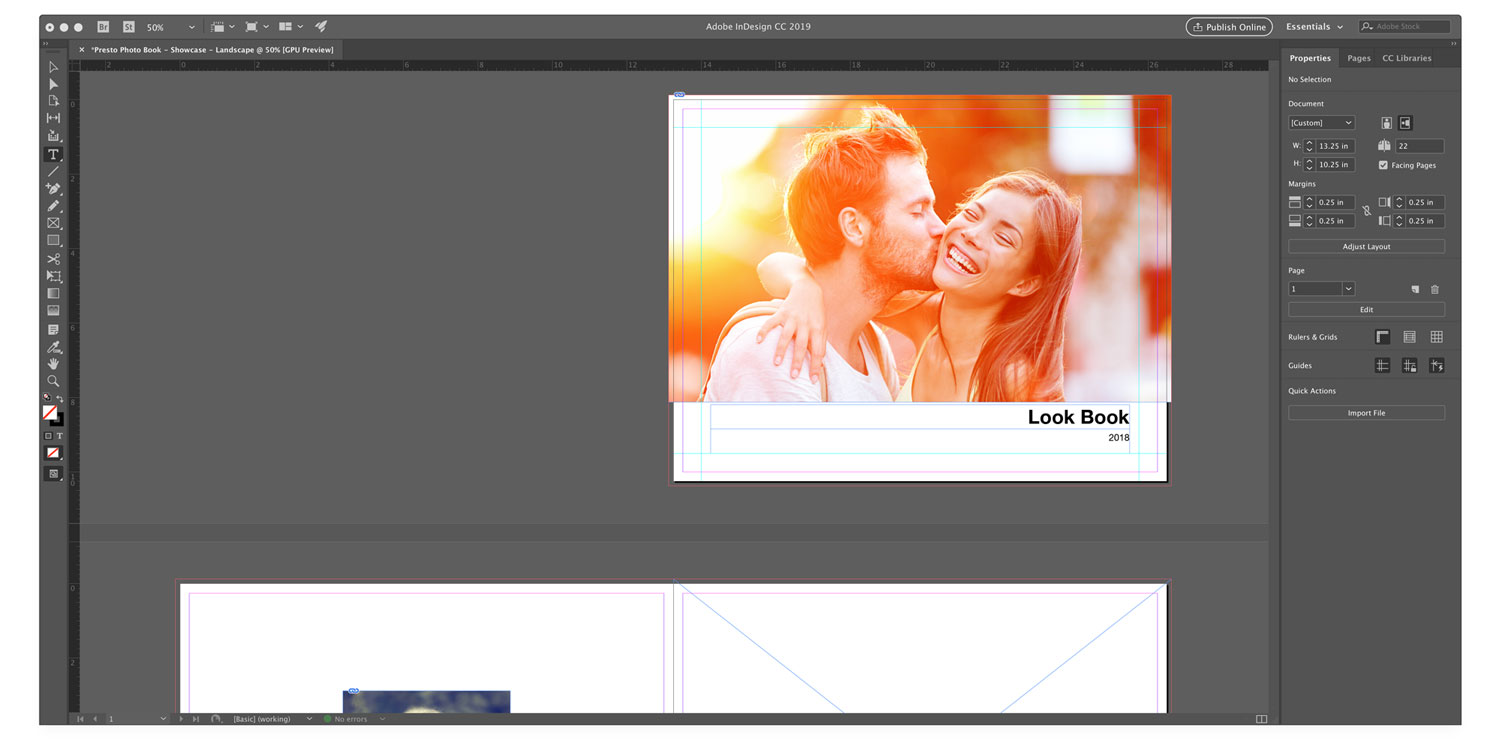 The best way to make sure you don't lose access to your book is to make it with photo book software on your own computer that allows for PDF exporting. Adobe InDesign is the leader in this field, as it lets you create books of all types (photo books, text books, poetry, manuals, softcover books, the list goes on), and it's from a company that's been around since 1982 (InDesign as a program has been around since 2000), so you can feel secure that they will continue to support the software for years to come. You can also export a PDF file of any of your projects at any time, so you can have backups you can reprint at any time.
Easily create 2 page spreads, master pages, and books at any size your print provider will print. There are basically no limitations with this software, so for better or worse, you control everything.
The biggest caveat with Adobe InDesign is the price: the photo book program can't be purchased outright anymore as it's a part of Adobe's Creative Cloud line of creation software. InDesign comes out to $20.99 per month for an annual plan (there is a single month at $31.49 if you want to try it), which is steep if you make one or two photo books a year.
Good
Unlimited Design Options
Intuitive UX for advanced users
No limits on book length
Industry standard for book print design
Limitations
Requires Adobe CC subscription
Can be confusing for first time users
Doesn't offer many templates out of the box
Price:
$20.99/mo subscription
OS Support:
macOS/Mac and Windows/PC
Ideal for:
All Professional Photo Book Designing
---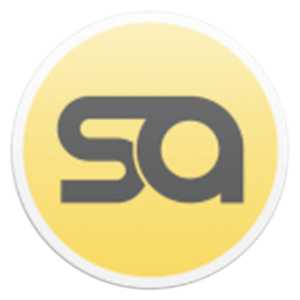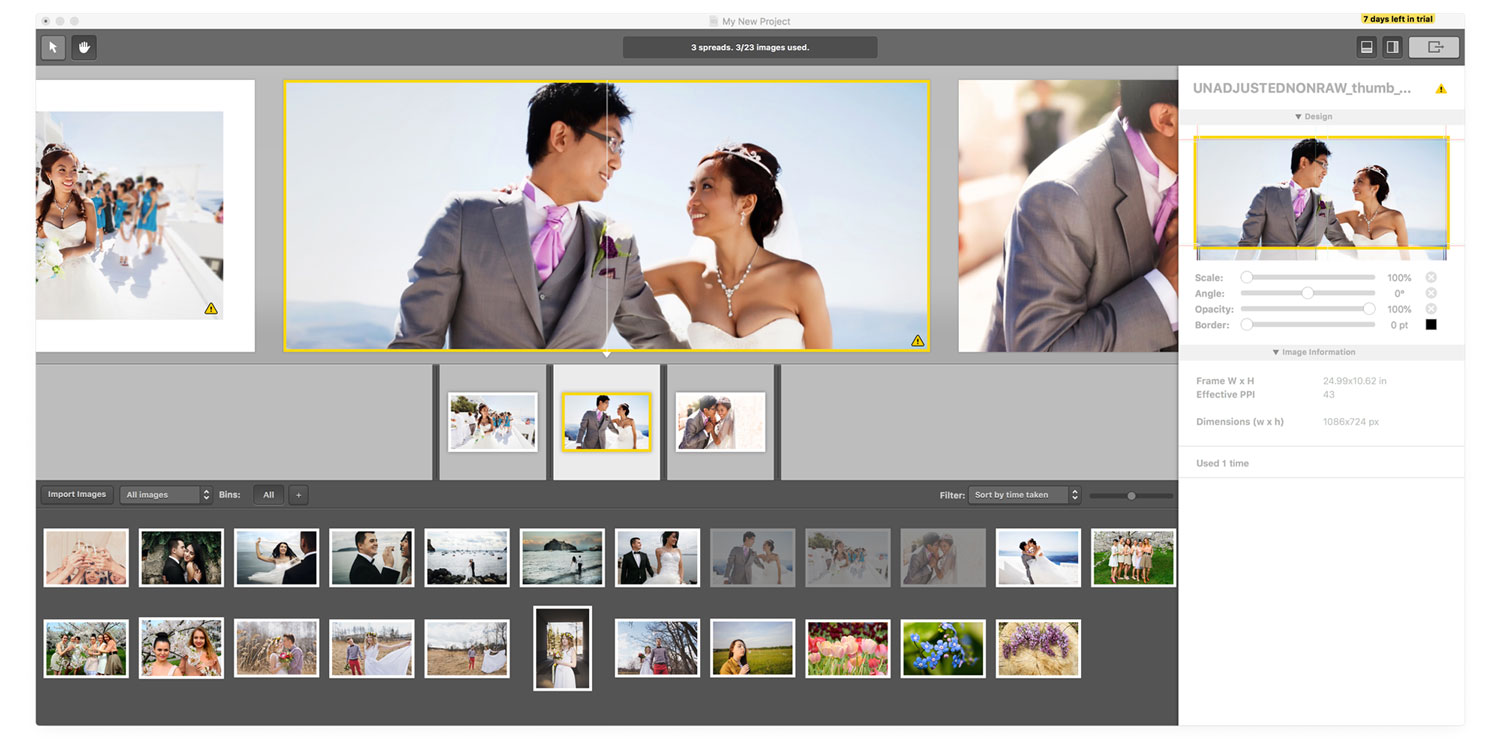 Pixellu Smart Albums is relatively new to us at Presto Photo, but it's a really nice option for those who want a professional design program that's just for designing photo books (InDesign can easily be used for more than just photo books). It's also nice that you can buy the program outright, which InDesign and Lightroom do not really allow for anymore. Use is pretty easy, you drag the photos you want to each page, and flip between layout options based on the amount of photos you have on the page.
Smart Albums seems more geared to professional photographers, especially ones who make wedding photo books for clients. I'd say it would be great for anyone to use, and makes it easy to customize the photo book size to work with any print provider you'd like to choose.
Good
Simple to use program
Easy to use
Great for clean, simple layouts
Can buy the program outright instead of subscription
Limitations
Cover designed in separate file
Not many decorative templates
No downloadable templates
Price:
$299 or $16/mo subscription
OS Support:
macOS/Mac and Windows/PC
Ideal for:
All Professional Photo Book Designing
---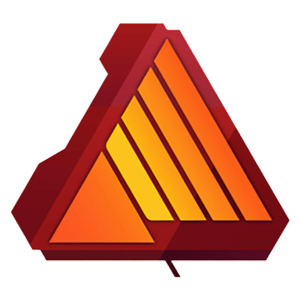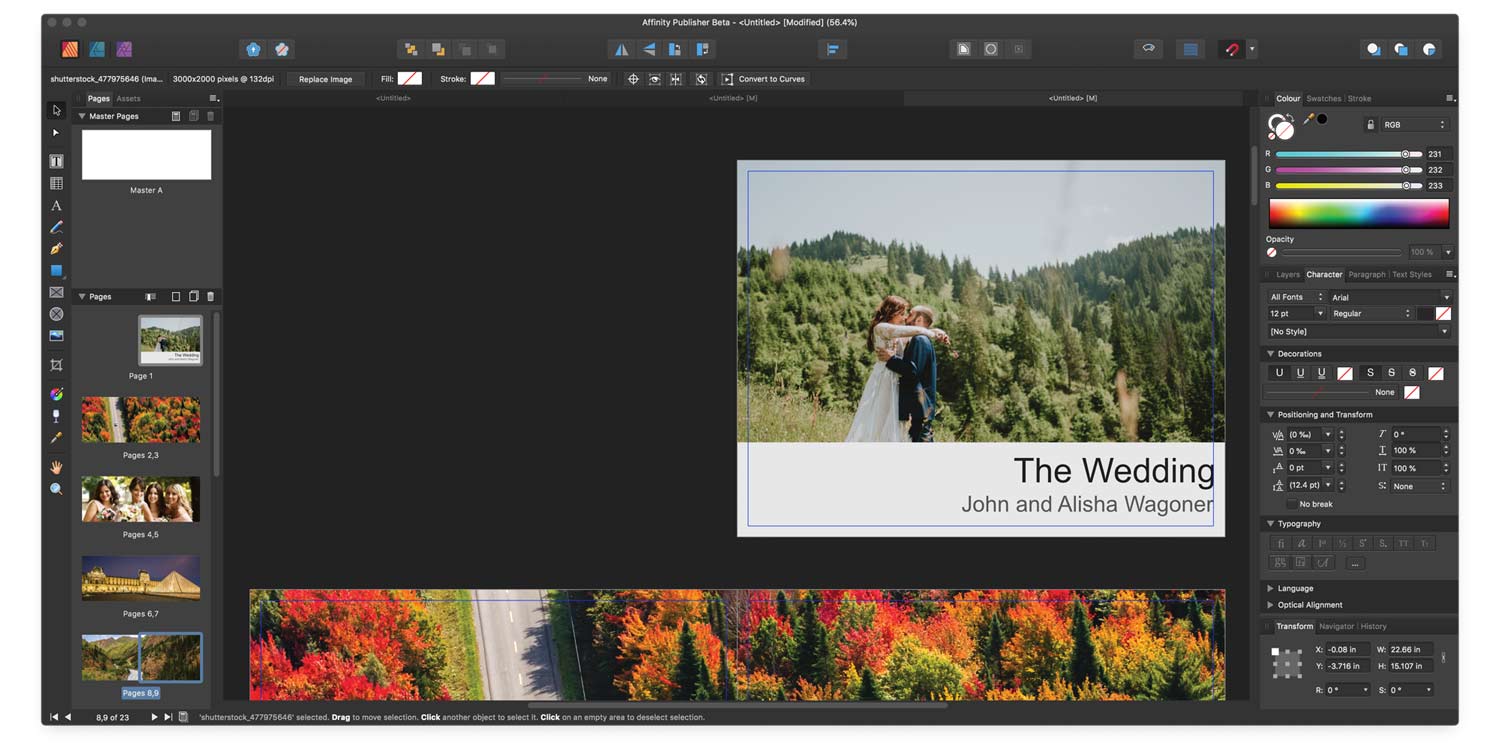 Currently in Beta, Affinity Publisher is on a strong start to be a viable InDesign competitor. It's a great option for those who like the idea of InDesign, but don't like the idea of subscriptions: you'll be able to purchase Affinity Publisher, and most likely at a great price: $49.99 (the same price of their other two design programs).
The main issue with Affinity Publisher is that it is still in beta, and as an underdog, will probably have less templates/assets made specifically for Affinity. But as a low priced competitor to InDesign that does most of the same things, it's hard to beat. When the full version releases we'll look more into this program.
Good
Currently Free and will be able to purchase the program outright upon official release
Infinite design options
Limitations
Currently in Beta, so bugs are sure to arise
Won't be as many template options as any of the other programs listed
Price:
Free (Currently in Beta)
OS Support:
macOS/Mac and Windows/PC
Ideal for:
Anyone looking for InDesign on a Budget
---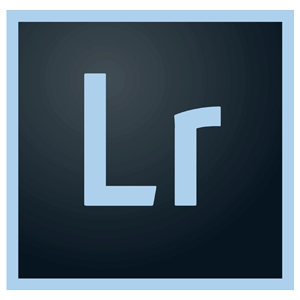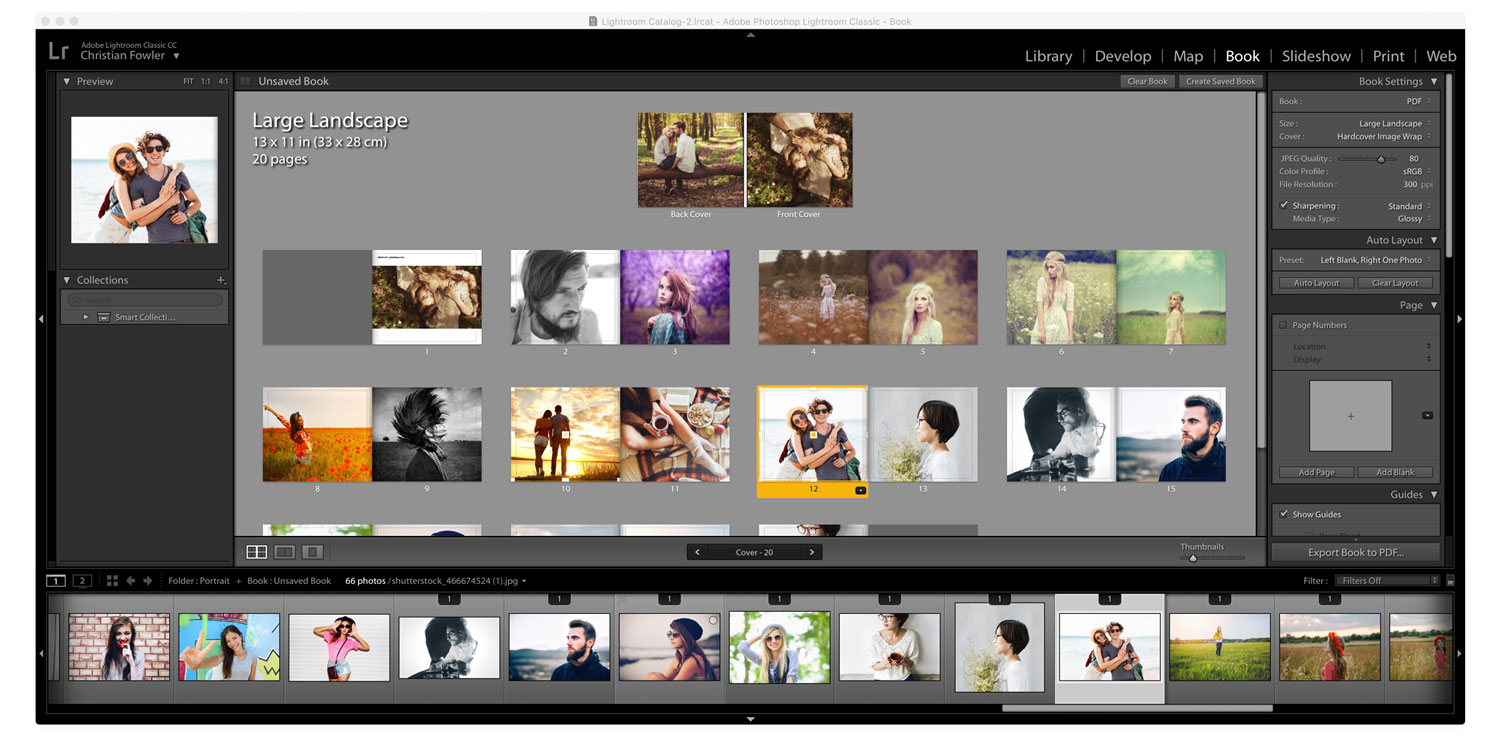 Adobe Lightroom isn't known as a piece of photo book creation software, but it has great tools to do just that. It's designs are generally more clean, you can still customize your layout, and it uses your Adobe Lightroom photo library (if you are a Professional photographer using Lightroom already, this is a big plus).
You won't be able to customize your layout as much as InDesign or Affinity Publisher, but there are many options to choose from. The biggest drawbacks would be the required Adobe CC subscription, though at this level it comes with a lot of extras (either Photoshop CC or 1TB of cloud storage), so it's a pretty appealing deal for those who want to make a photo book every now and again, especially if you already use the software.
Good
Uses your photo library in Lightroom
Easy to use
Loads of Template Options
Comes with Photoshop CC or 1TB of Cloud Storage
Limitations
Odd photo book size options
Less control over design than other programs
Requires Adobe CC Subscription
OS Support:
macOS/Mac and Windows/PC
Ideal for:
Making a few Photo Books a year
---
---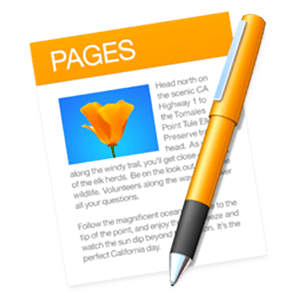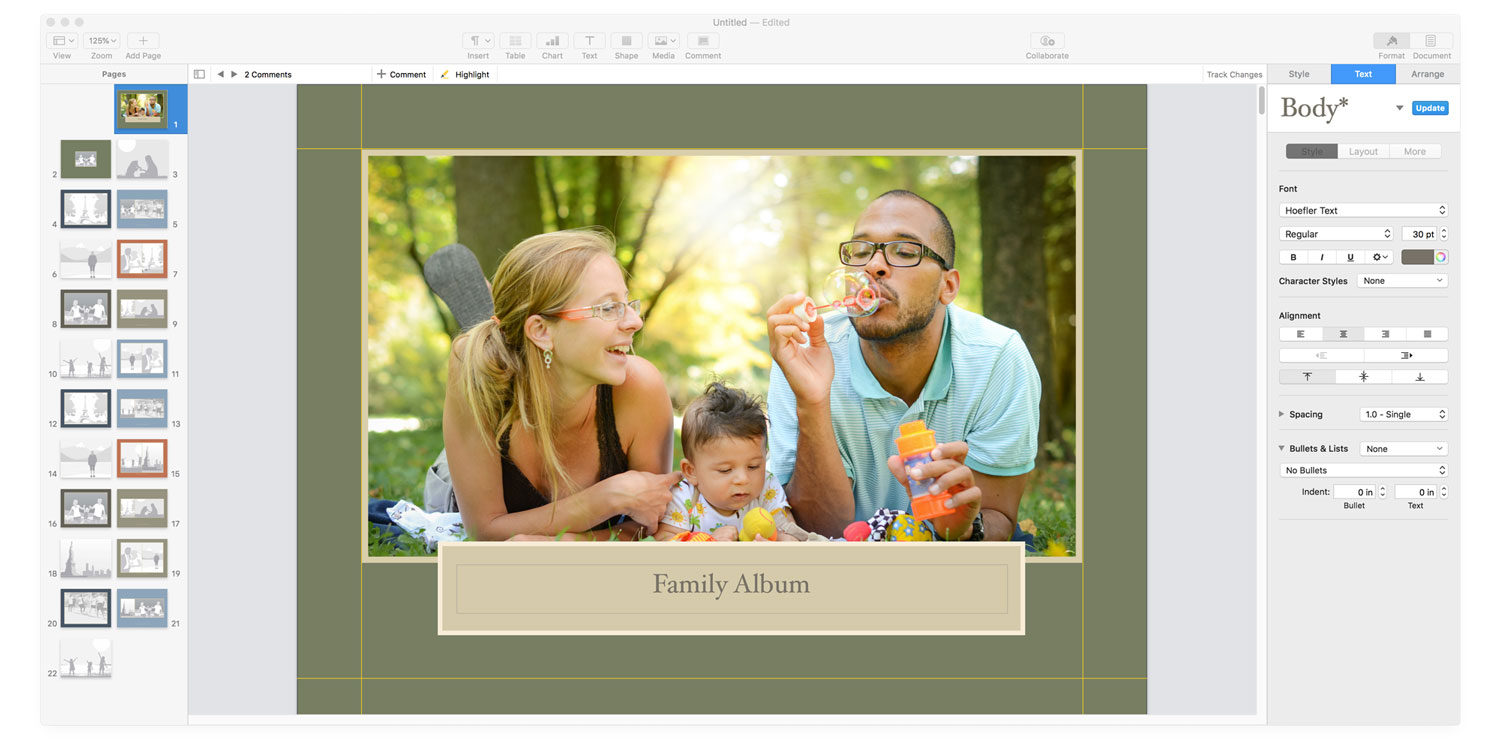 We've covered Apple Pages in the past, and for good reason: Apple Pages is one of the best photo book making software programs out there right now. Even better: it's 'free' (you have to purchase a Mac computer or an iPad to use it to be fair). If you already own a Mac computer or iPad, you can start making amazing photo books (or any books really) with ease. Apple Pages is a much friendlier program to design in than InDesign, with a easier learning curve too. Speaking from personal experience, I'd say it took me a year of using InDesign to come close to mastering it, and that's with using other Adobe programs for years. If you're using Adobe software for the first time, there's a lot of options and settings to get the hang of.
There are a few options that aren't available to you, like setting up a full page spread over two pages (you have to design the whole book as a spread, download our Showcase template as a spread to see what we mean), and photo editing isn't as advanced within the program as InDesign. But for making a photo book a few times a year? Can't be beat.
You can use our Apple Photo Book Templates to get started, or if you are up to the challenge you can design a whole book from scratch through Apple Pages. Download our Apple Project Templates online or download our macOS app for even easier access to all of the templates. If you want to design your own book, we have some tips about using Apple Pages that will help you in your designing process (print guides are your friend, if you read nothing else).
Good
Loads of template options to choose from
Use photos from your Photos library
Customize fonts, background colors, and more
Create your own master pages to be used on future projects
Limitations
After 20-40 pages of photos, can get confusing which images have already been used
No Windows/PC Version
Ideal for:
20-40 Page Photo Books (50 Photos or less)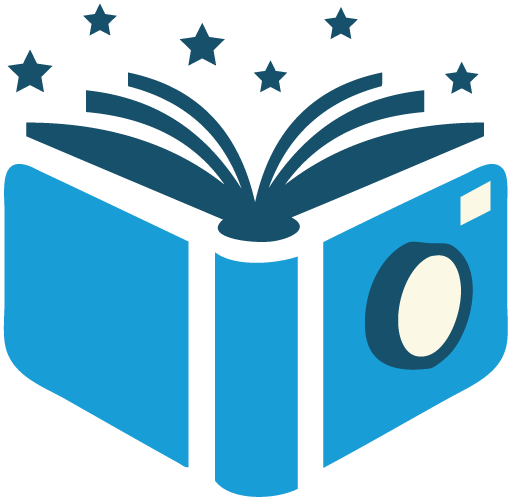 Download our Mac app for a new way to make Apple Photo Books
---
There you have it, hopefully this brings some insight into proprietary photo book makers, and how to make photo books with programs that are sticking around for a while. If you follow the tips in this post, you'll be making custom photo books that you'll have access to, instead of being locked out. And remember: every photo book you've ordered through Presto Photo can be reordered with us in case you lose access to your own personal copies of the files or images, so you have an extra layer of security with us.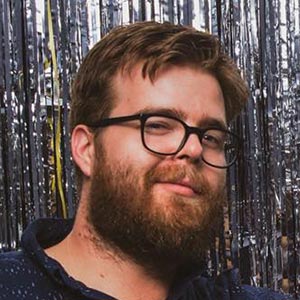 Tim Weaver
Tim is a North Carolina native, extreme book geek, and sometimes thinks he's an artist. When he's not whipping up amazing graphics and designs for Presto Photo, he's probably sipping a coffee with his cat and organizing his art book collection.