Apple Pages
The best photo book software for your Mac and iPad is Apple Pages with the Presto Photo Book Templates.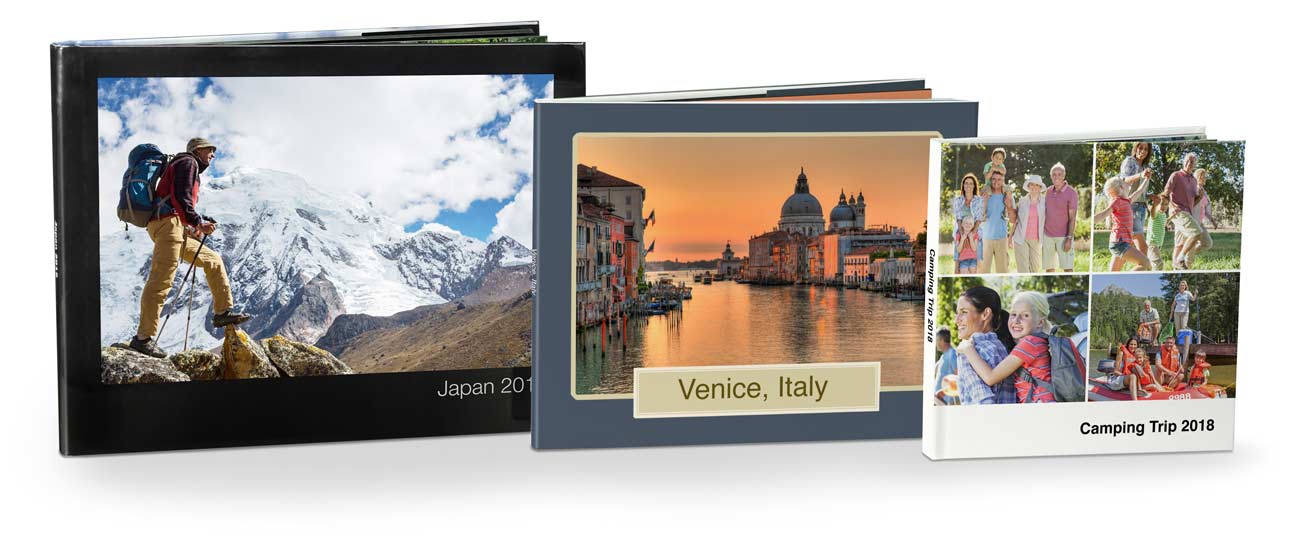 Apple Pages is the best photo book software already on your Mac and iPad. By using the Presto Photo Book Templates for Pages, easy drag-n-drop book making is at your fingertips. You have more control and flexibility than iPhoto, Photos or even Aperture, and Pages utilizes your existing photo libraries. Use Apple Pages to create apple photo books!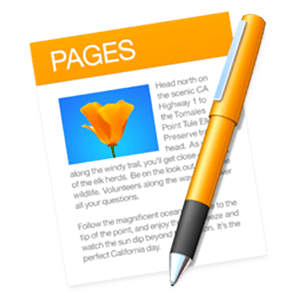 Apple Photo Book customers, welcome home.
Since Apple has discontinued its printing services, Presto Photo has stepped up and now offers templates that are comparable to those in Photos, Aperture, and iPhoto. These templates allow you to create books consistent with what you've been making with Apple over the years. Please note, these templates are similar to the original, but do have some variations are in no way endorsed by Apple Inc.
If you've never used the Apple Pages portion of the PrestoPhoto macOS App, here's a quick run down of how it works:

Download the App and choose a template

Create and edit your book using Apple Pages

Export to PDF and upload with a web browser

Add to shopping cart and receive a Custom Photo Book!
Start by downloading our app below. From there, install a Apple Pages template from the list provided. Customize it with your own photos, and export it to be uploaded to Presto Photo. Fill out all the necessary information, place your order, and a customized photo book will be shipped directly to you! Simple, easy, and at a price none of our competitors can beat.
Latest Release available in macOS App Store:

---
1-2-3 Easy Guide!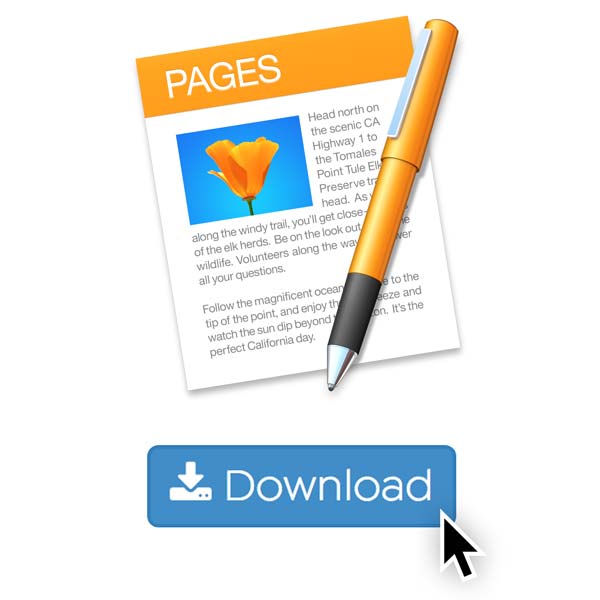 Download the Template
Start by downloading one of our Pages templates.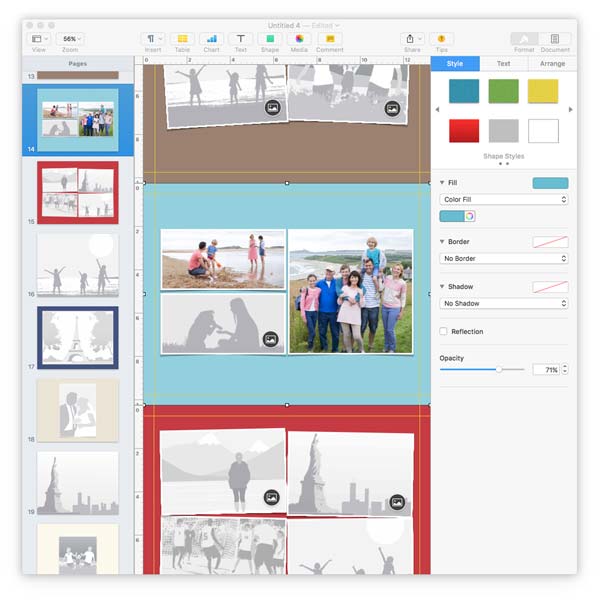 Make your Photo Book
Unzip the file and start a new Pages document. Simply click on the button in the bottom right hand corner of a placeholder image and load in an image from your Photos or iPhoto library.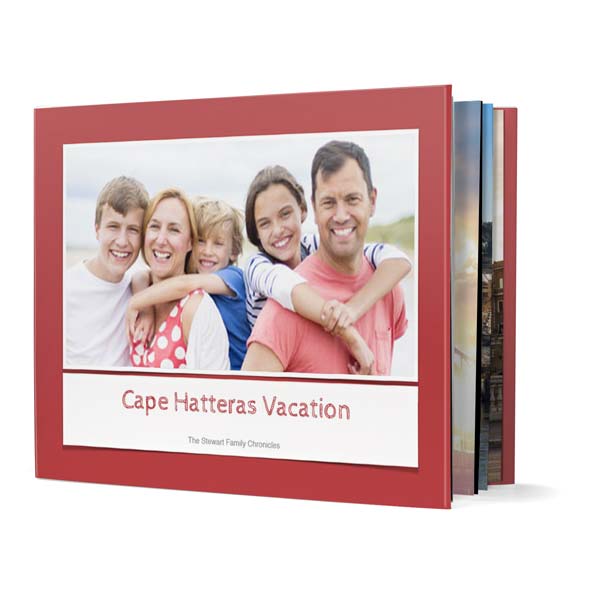 Export to PDF and Upload
Export a PDF of your project, and then upload it to PrestoPhoto!
---
How to Upload Your Project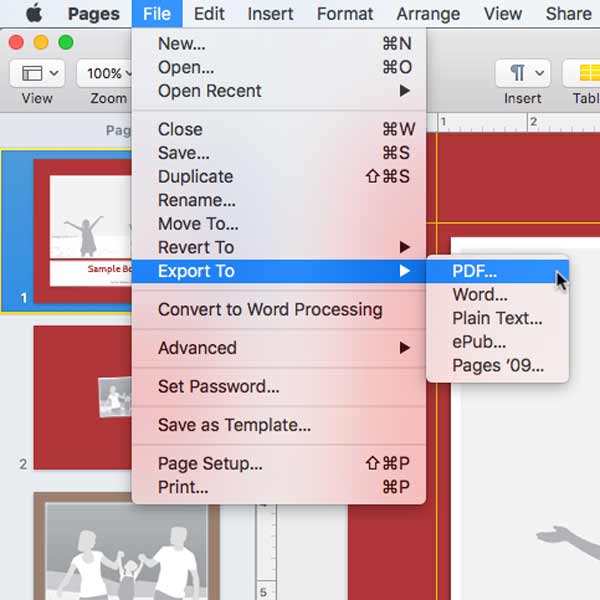 Export to PDF
Export a PDF by going to File > Export to > PDF…. You will be prompted to choose your Image Quality, use 'Best', and save a PDF to your local computer. Next, upload the PDF to PrestoPhoto.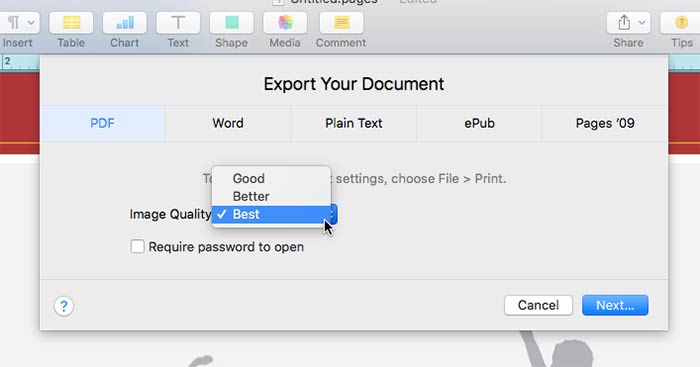 Start PDF Upload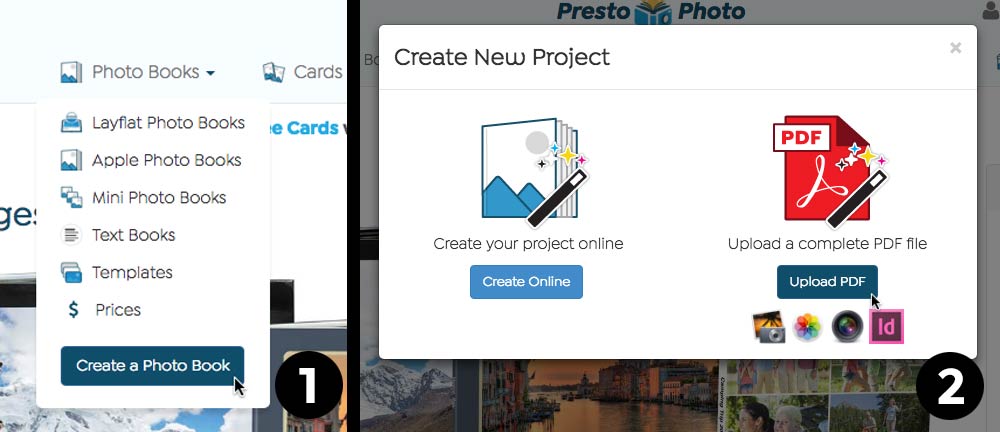 After you have Exported your Photo Book as a PDF, you can now upload it to PrestoPhoto. You can either upload it here or click on our top menu bar, and go to Photo Books -> Create a Photo Book, and selecting from the popup Upload PDF
Name your project and pick the Type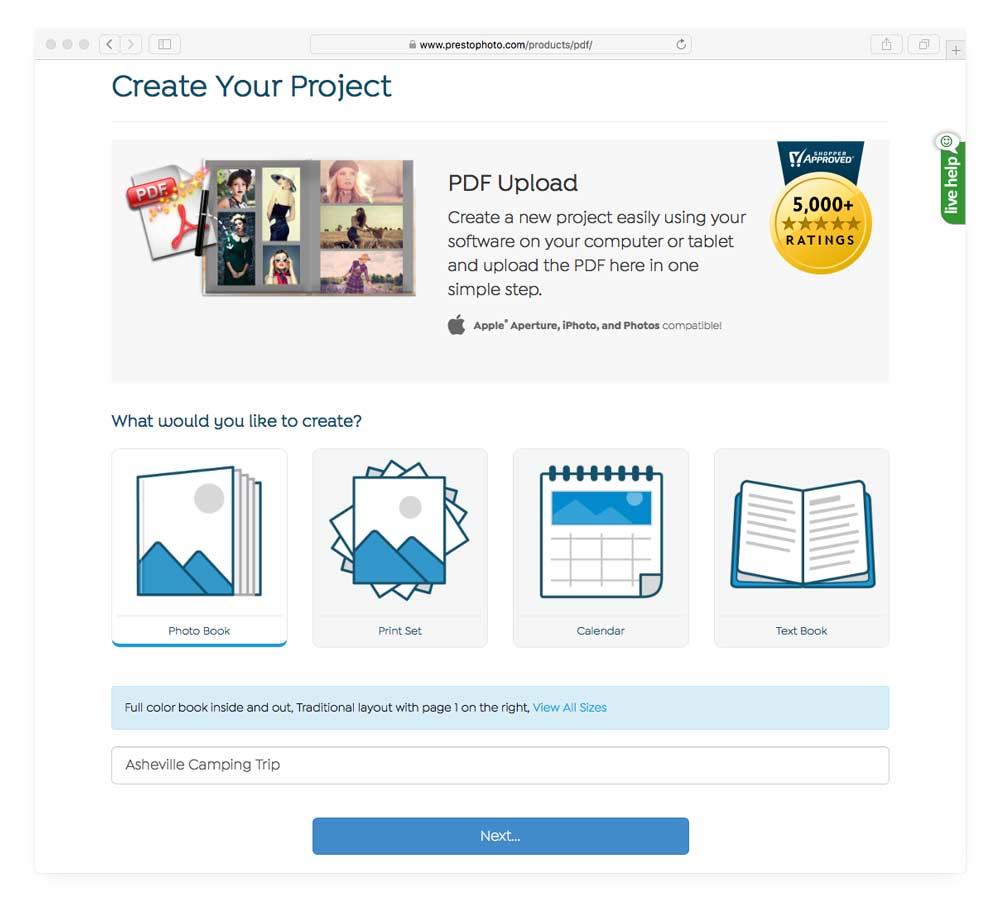 On this page, you start by picking the type of project you want (you want the first option, Photo Book, which is pre-selected). Enter a name for a project to help keep track of it
Name your project and pick the Type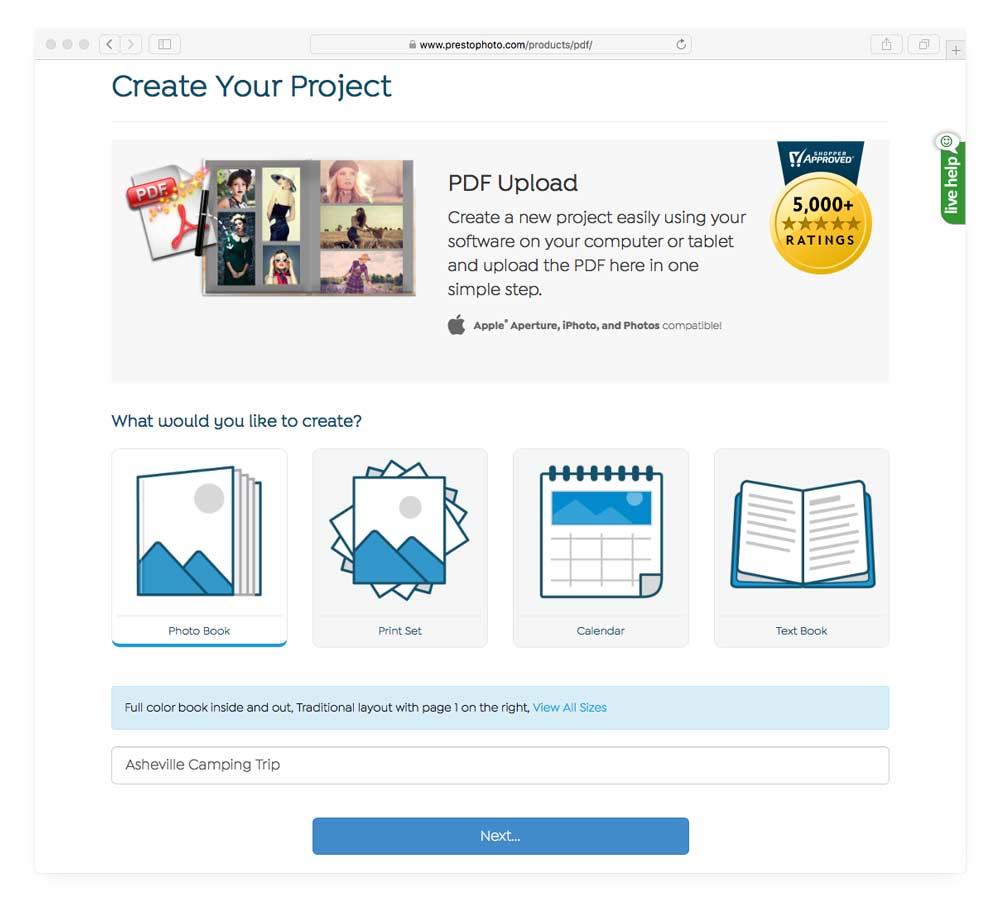 On this page, you start by picking the type of project you want (you want the first option, Photo Book, which is pre-selected). Enter a name for a project to help keep track of it
Select your PDF and Cover Options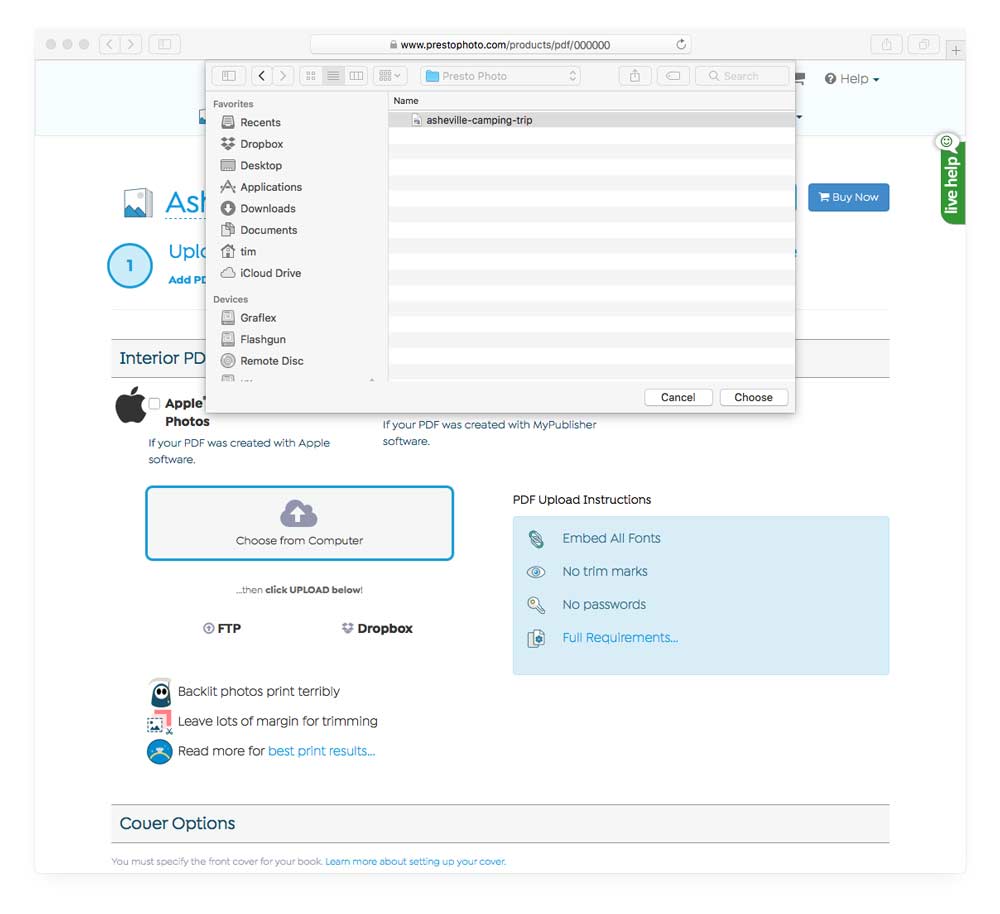 Click on Choose from Computer, and then find your Photo Book PDF and select it, then press open. Scroll down the page to Cover Options, and you want to select Use first page of my PDF from the left hand column of the cover options, and then to the right are the back cover options, select Use Second Page of my PDF, and finally click the Upload button at the bottom of the page.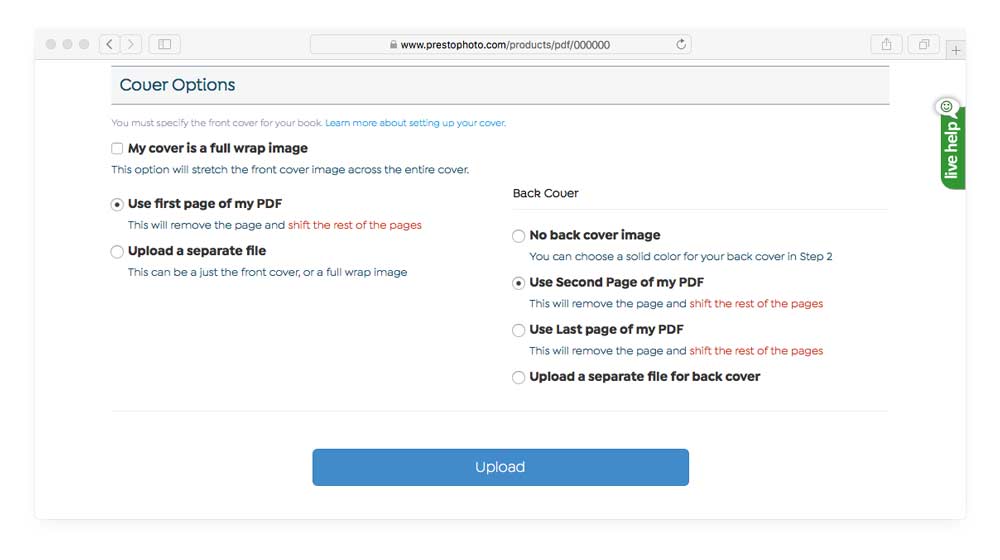 More Cover Options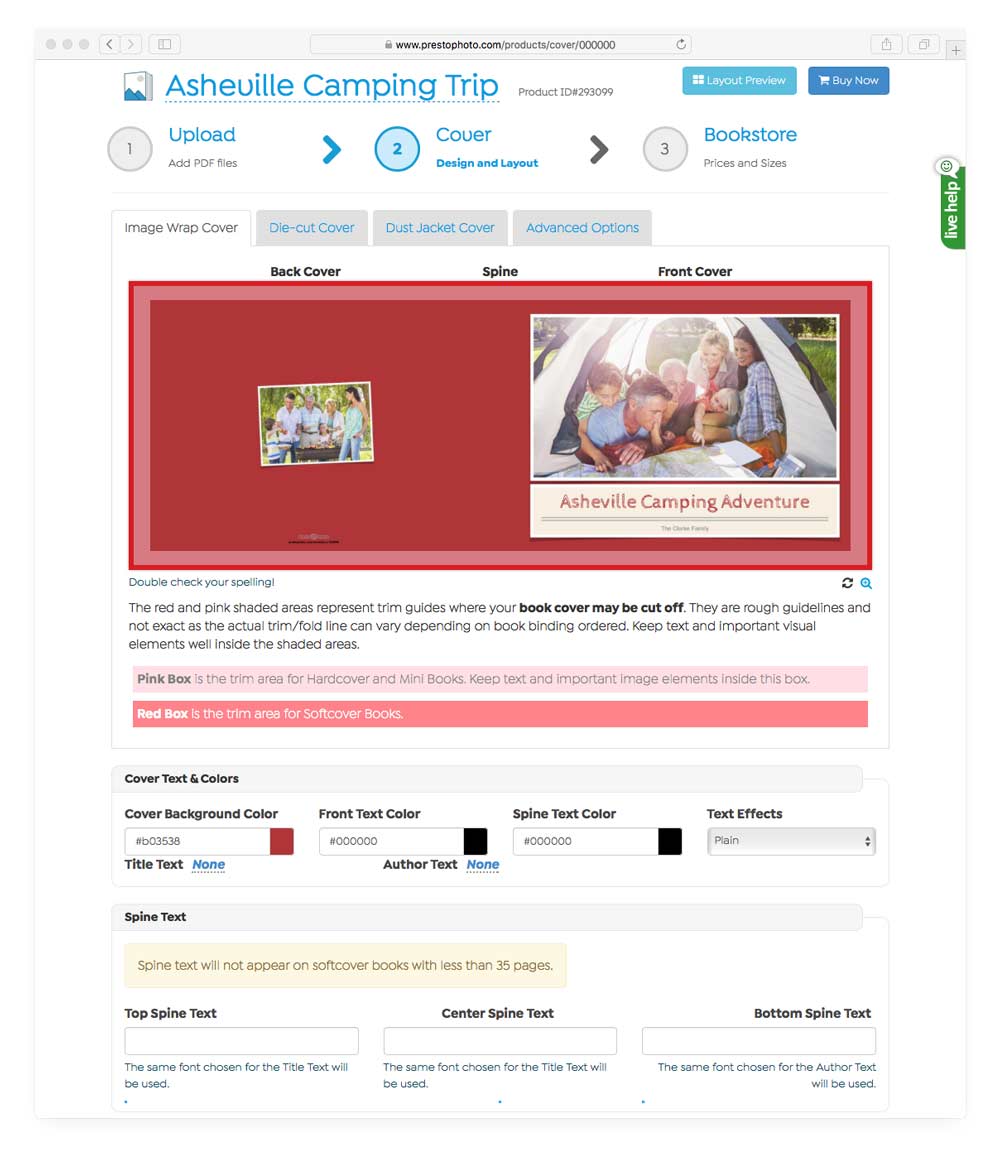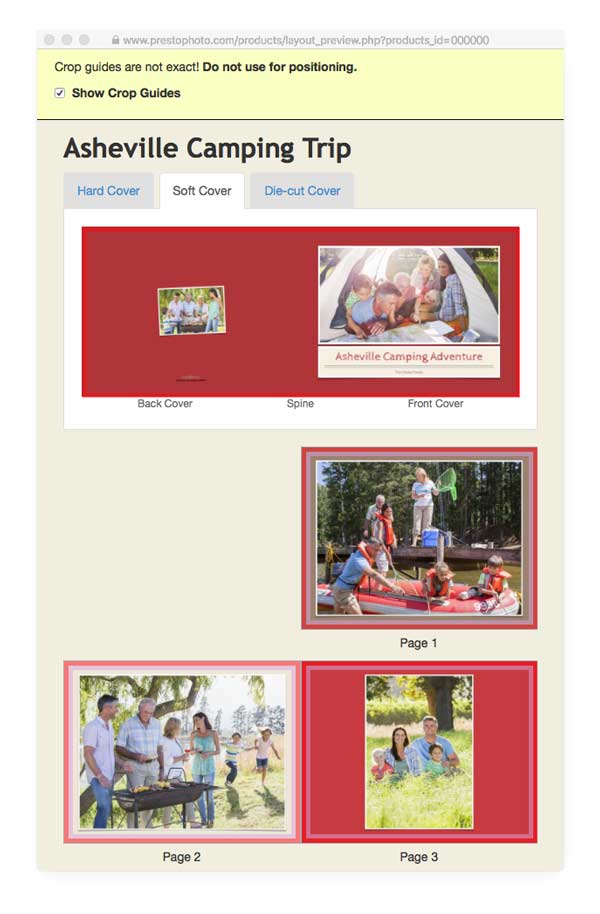 For this step, you can now see a preview of how your book will print by clicking the Layout Preview button in the upper right hand corner. If your book is being printed as a hard cover or is a soft cover over 35 pages, you can also enter text for your spine on this page. At the bottom of the page is an area to change where the info box information is printed on your book if it is ontop of any inportant design elements. Once done, go back up to the top of the page and click on Bookstore.
Bookstore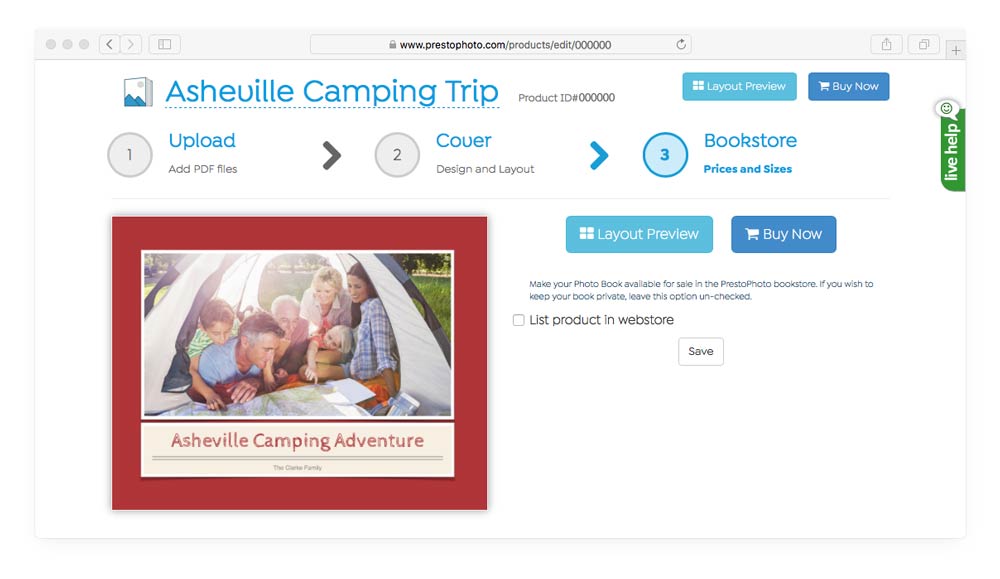 If you would like to make your book available in our bookstore for anyone to buy, check the List product in webstore checkbox. If not, click Buy Now.
Buy your Photo Book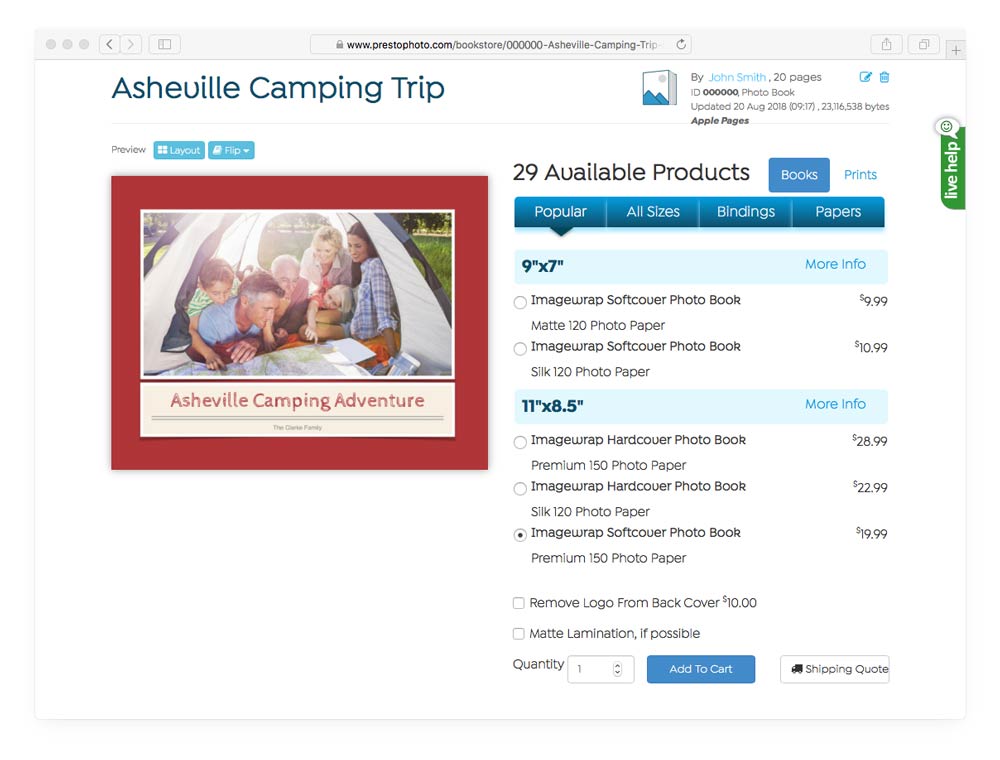 Select the size and cover material you would like to purchase your book in. We have our most popular options at first, if you don't see your desired option click on All Sizes to see all available sizes. Choose how many you want and select Add to Cart and checkout!
Enjoy your Book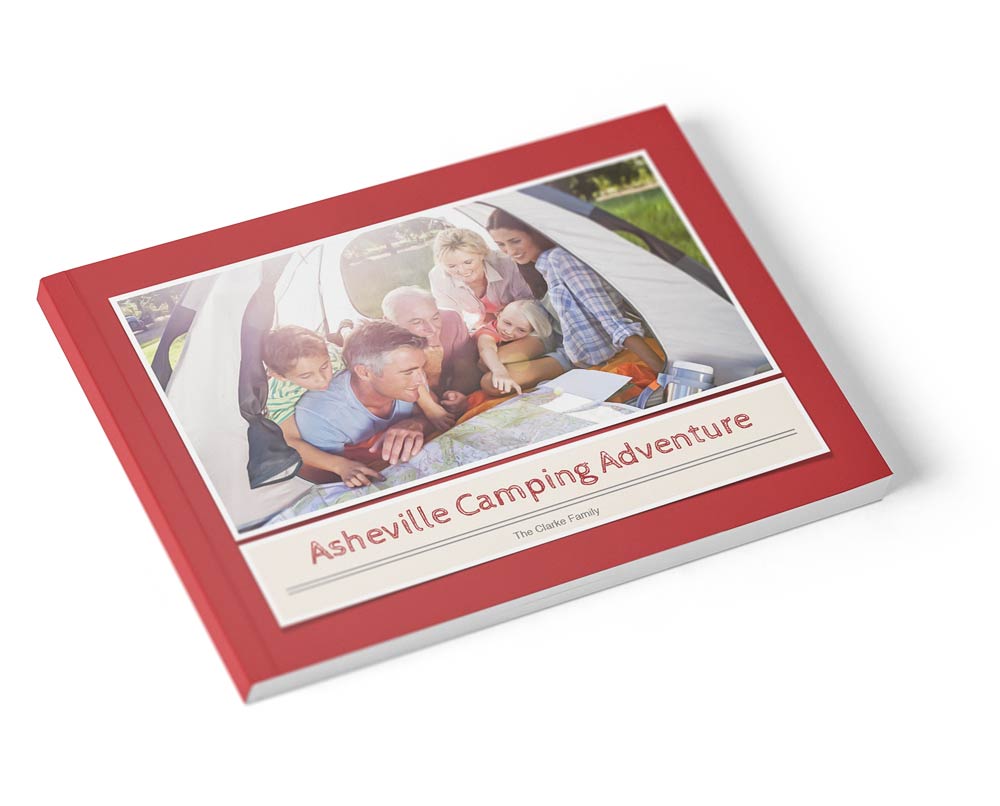 You're all done! Enjoy your custom made photo book and start cooking up ideas for the next one.
Tips and Tricks
If you haven't used Apple Pages for book layouts before, we've got a set of tips and tricks to help out.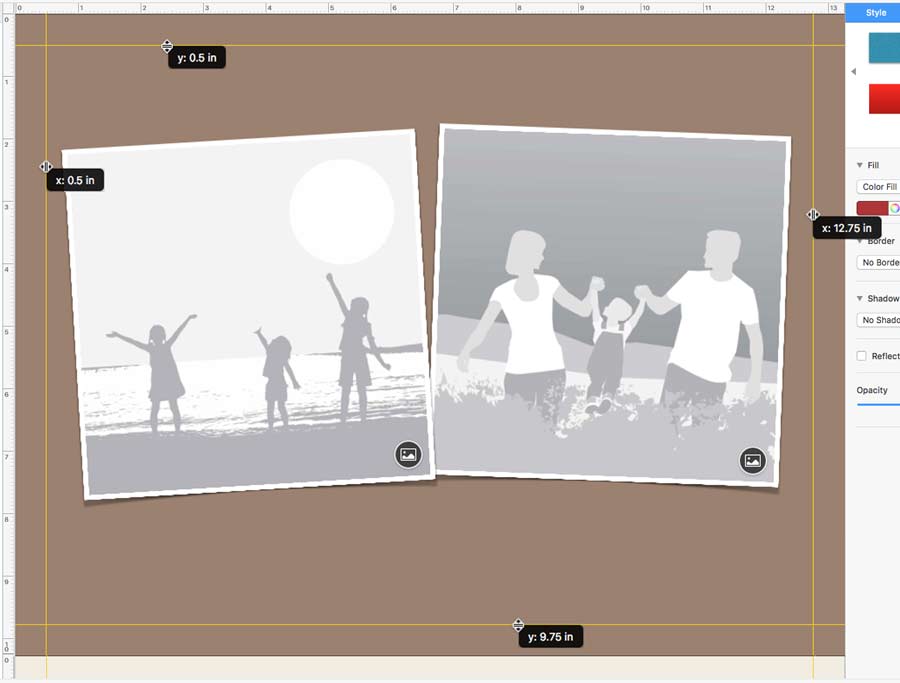 Guides
There are Yellow Crop Marks around all of the template pages. They are what we call the "Safe Area". Anything within this area will safely print. If anything is placed beyond these marks runs the chance of being cut off in the book making process, so we suggest placing anything important within these yellow guides. If you create a new page for this template, you will have to add your own in order to see them.
Turn on your rulers by either going to View-> Show Rulers or hitting the keyboard shortcut Command(⌘) R on your keyboard. From there, you can drag and drop the yellow guides by clicking on the rulers and pulling them to the desired location. For interior pages, use the following coordinates: x: 0.5 in, x:12.75 in, y 0.5 in, y:9.75 in. For covers it's a little different, use the following coordinates: x: 1 in, x:12.25 in, y: 1 in, y:9.25 in.

Front Cover (Tempalte Page 1) Left, Back Cover (Template Page 2) Right

Page 1 (Template Page 3) Right
Book Layout
The layout of our Pages templates works like this: Page 1 is our front cover, Page 2 is our back cover, and from Page 3 on is the interior of the book (Page 3 of the template is Page 1 of the interior, Page 4 of the Template is Page 2 interior, and so on).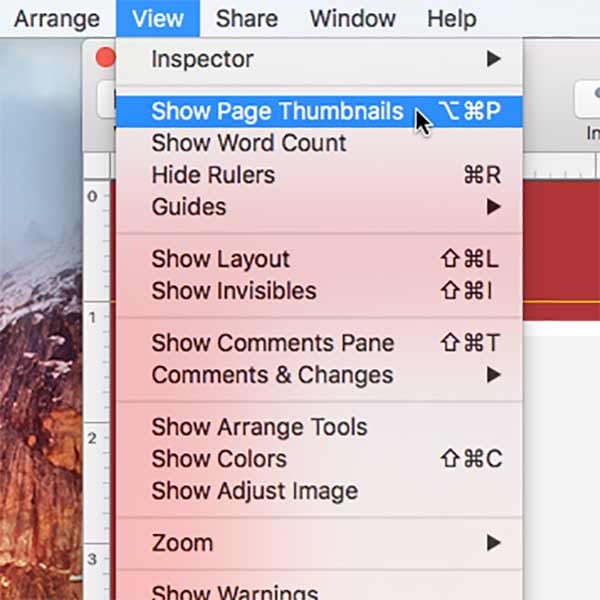 Turn on Page Thumbnails
Quickly view your page layout by turning on Thumbnails: View->Show Page Thumbnails. The first page is your Front Cover, the Second will be your back cover, and the rest is your interior pages of your Photo Book.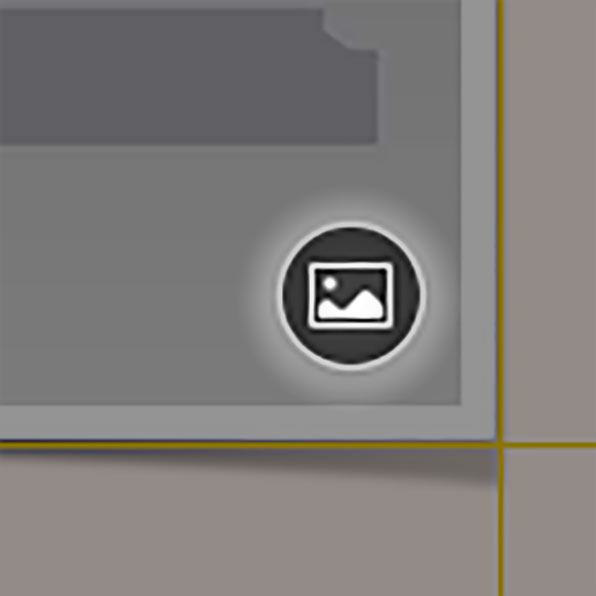 Place Your Images
Click on the button on the bottom right hand corner of the placeholder images to replace them with your own photos from Apple Photos or iPhoto photo library.
Crop and Edit Photos
Once you've placed your image, you can now reposition and resize it as you desire. Double click on the image and a pop-up will show up, and you'll also see all of your image, with some of it grayed out (the area currently cropped). Slide the image around with the cursor on the image, and change the size with the sliding bar on the bottom pop-up.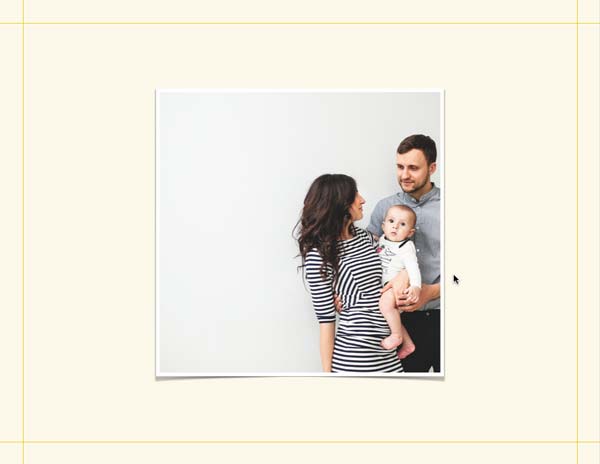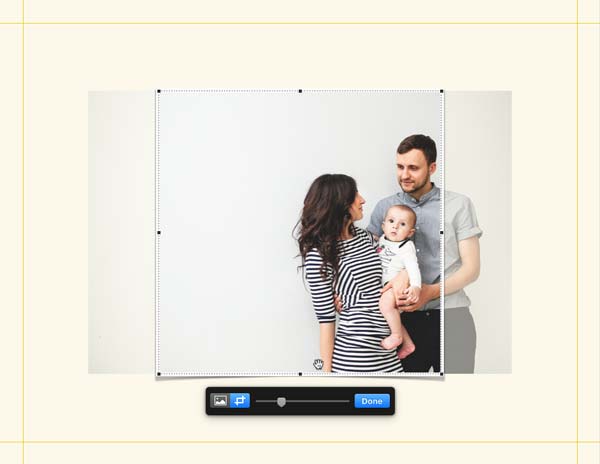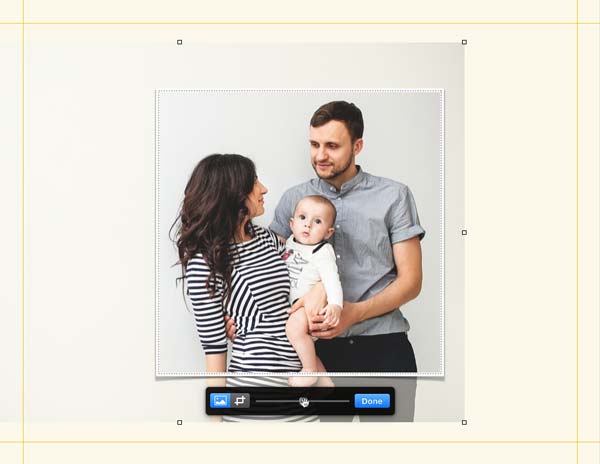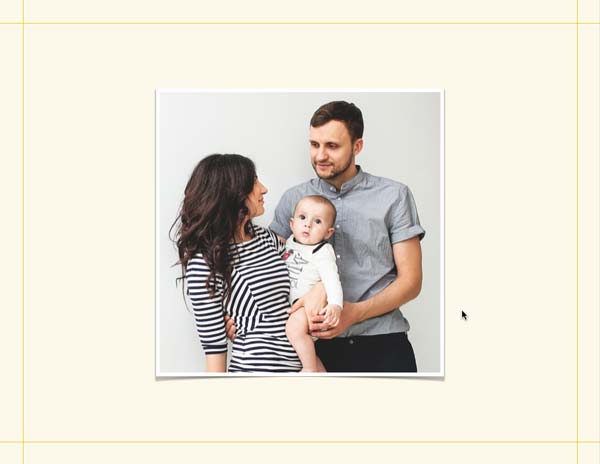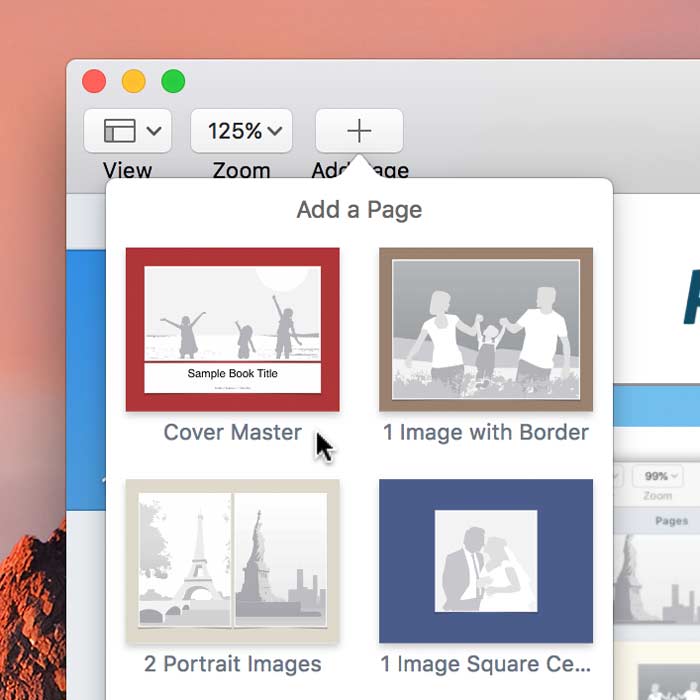 Add and Remove Pages
Pages 7 and 8: Click on the + in the top right hand corner of the window, and you will have access to all of the Master Pages for the template. Add as many pages to your book as you like, it's simple and easy. To remove pages, with the Page Thumbnails pane open to the left, right click on a page and select Delete, and the page will be deleted. You can also left click on the page thumbnail and hit the Delete Key on your keyboard to delete the page.
Pages 5: Pages 5 does not have Master Pages, but you can add pages. Go to Insert-> Page and place a new page where you would like. To copy a design, select the page you would like to copy and go to Edit -> Duplicate Selection, and you'll have a direct copy of that pages design. Another way is to simply select all of a page style you would like to copy, press CMD + C, go to your new blank page, then hit CMD + v, and it will place the design.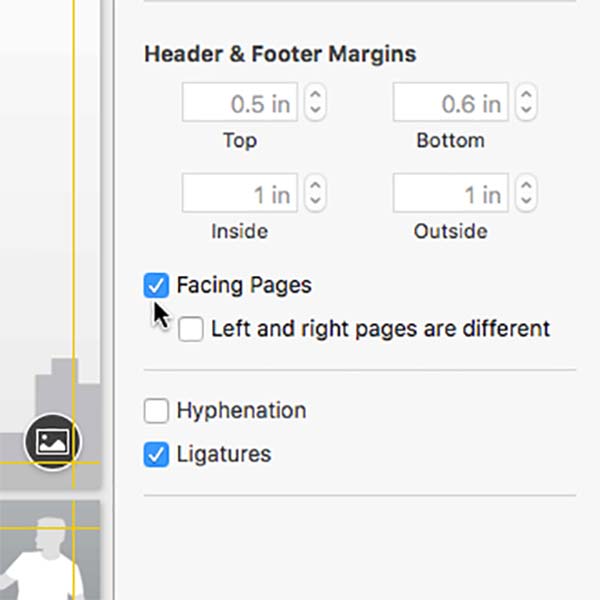 Turn on Facing Pages
This is a Pages 7 and 8 feature. To get a better look at your book, click on Document in the top right hand corner beside Format, and go down to the Header & Footer Margins section, and check Facing Pages. Now your pages will be shown as spreads in your Thumbnail Preview as well as the working pages themselves.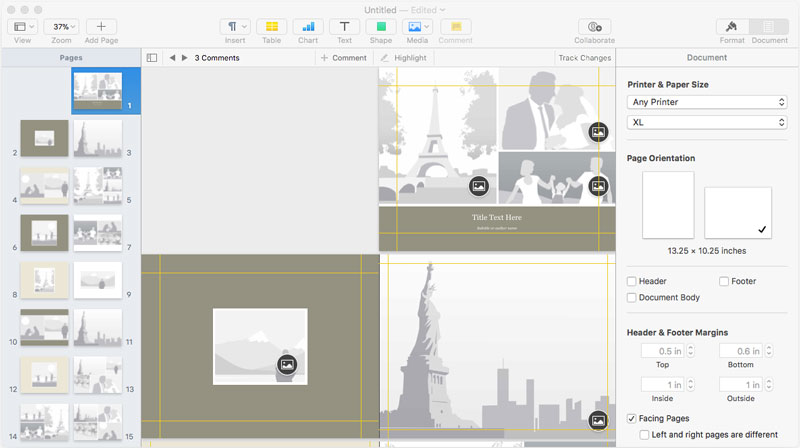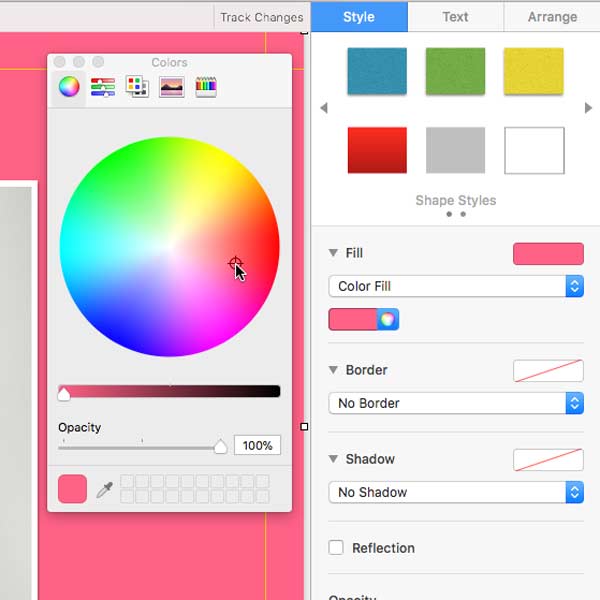 Change the Background color of your Page
If you would like to change the background color of your page, first you will have to unlock the background. When you click on the background area, you should see eight gray X's show up on the outter edges of the background (one on each corner, and one in the middle of each side). To the right, the Arrange pane should have popped up, and find the Unlock button right beside the Lock button.
Now that the background is unlocked, click on Style (should be to the left of Arrange), and under Fill, below the dropdown box, is a color picker. To the left is a few present colors in a drop-down, but to the right is a massive color picking tool with 5 separate ways to pick the right color for you. Once selected, it's best to lock your layer again. Click on the background, go to Arrange, and now hit the Lock button to keep your background from accidentally shifting around.
Apple Pages for iPad
As an added bonus, our Pages Templates also work with Pages for iPad. The process of starting is a little different, so here are some steps to get started.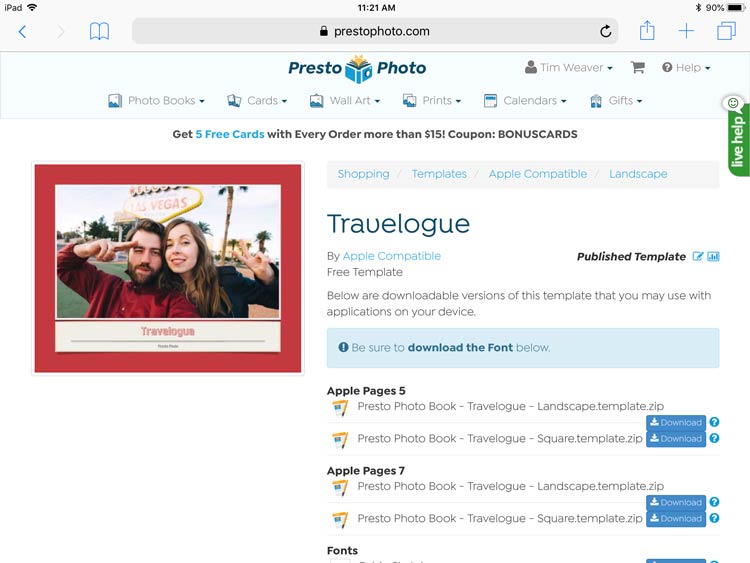 Find a Template you like
Look over our list of Apple Pages templates and pick one you want to use in Safari (we recommend using Safari for this process). Tap on the Pages 7 download link.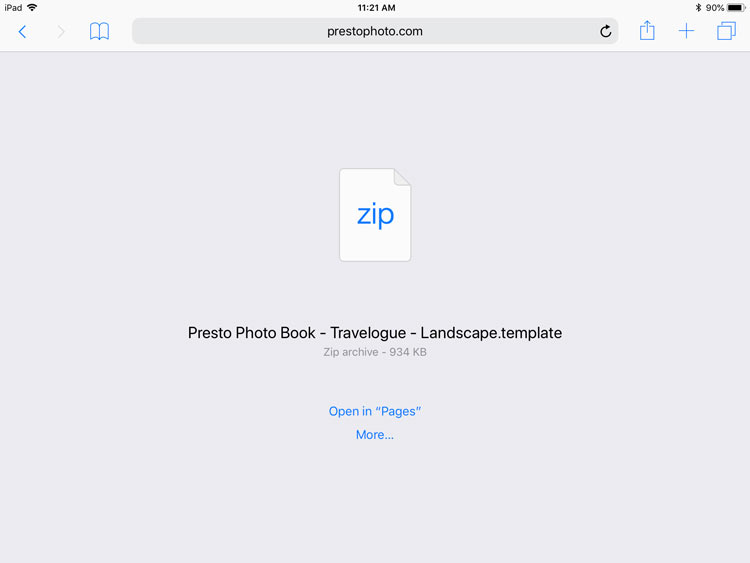 Open in Pages
Tap on Open in "Pages"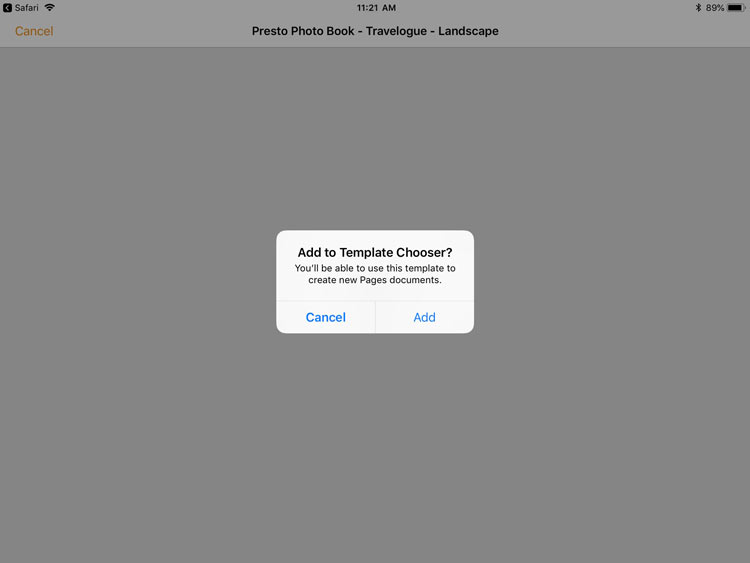 Add to Template Chooser
Add the template to the template chooser, you'll see what this does next.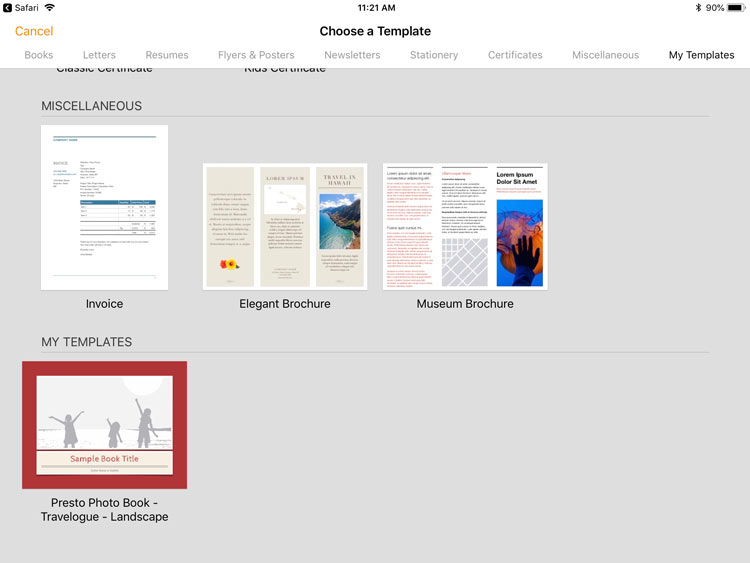 Start a New Project
Pages will open all the templates you have in Pages, and take you to your newly installed Pages template at the bottom of all of your templates in the My Templates area. Just tap on the template to get started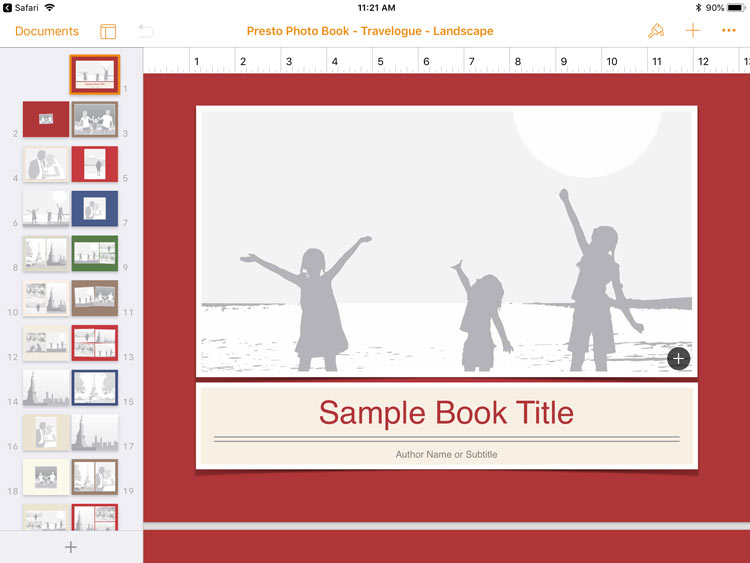 Get started
Start adding photos or your own text to make your own custom photo book!
---
Export to PDF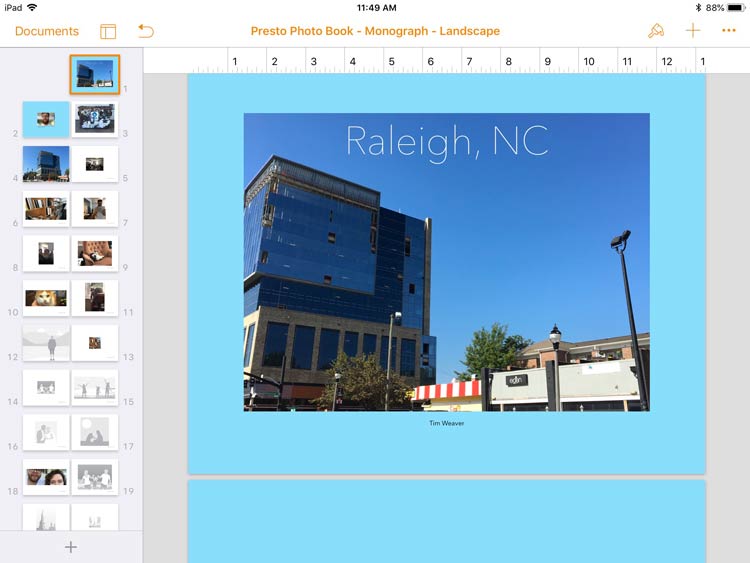 Tap the 3 dots in the top righthand corner to open more options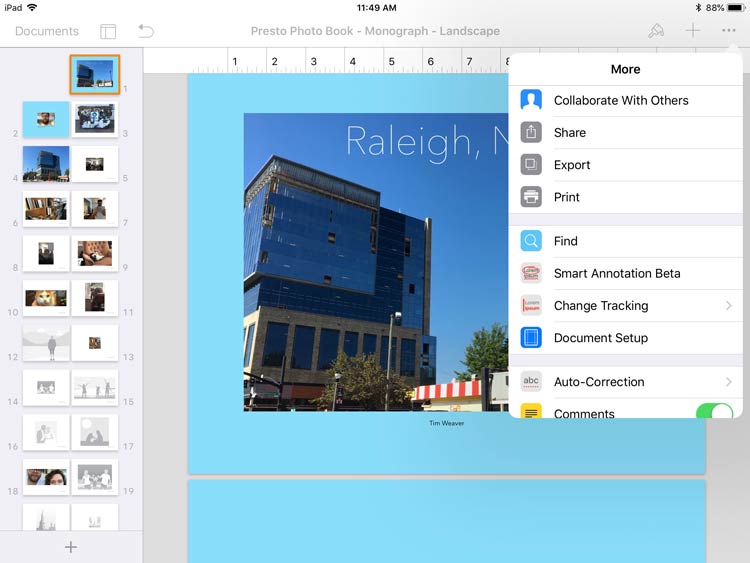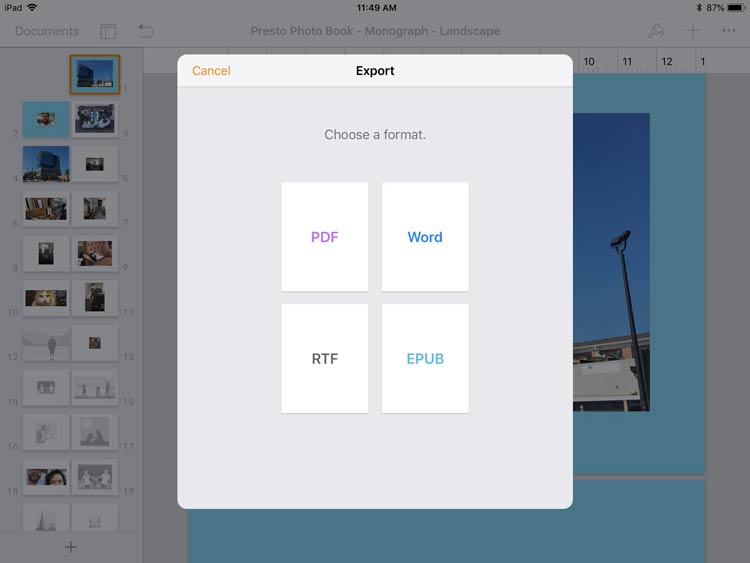 Choose PDF from the Options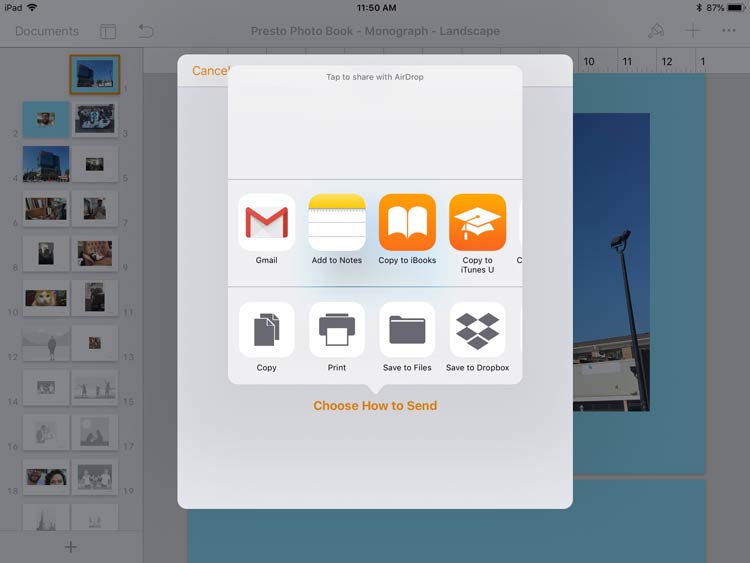 Choose "Save to Files" in the bottom sliding options area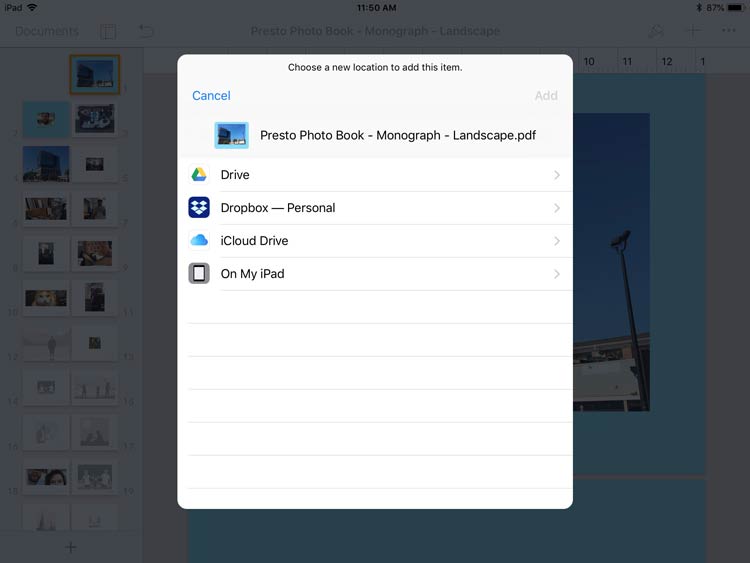 Save the file. Remember where you save it in order to access it later, or upload the file directly to Presto Photo from your iPad.
---
Pages Templates for making Photo Books
The most productive feature of Pages is the Templates. These allow creation of a beautifully laid out book in just minutes. All you need to do is drag and drop your pictures and add your text.
Looking for more help?
Check out our YouTube videos for information on placing or resizing your photos, changing background colors, and more!
Live Chat Hours: Monday-Friday, 9AM-5PM EST
Youtube Tutorial Links
PrestoPhoto provides Apple comparable templates to help you create books consistent with what you've been making with Apple over the years. Our Photo Books are in no way endorsed by Apple Inc, however we have worked hard to make sure they match the look and feel of your existing books. These templates are similar to the original, but do have some variations. Apple, the Apple logo, iPhoto, Pages, and Aperture are registered trademarks of Apple Inc.