9.5x8 Photo Book
An affordable option for show casing your latest trip around the world or just around your neighborhood! 9.5 x 8"'s are available in 2 product configurations:
Imagewrap Hardcover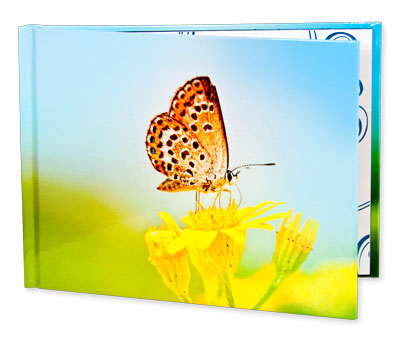 Our imagewrap photo books are constructed using the highest quality pre-cut imagewrap boards and also are bound on a computer-controlled adhesive binding machine. The casebound binding service offers a spine lining sheet which is applied inside the front and back cover and secures the fold over of the cover sheet. Covers are laminated and pages are hot-glued to the cover, which again is ideal for all of our on-demand products.
Production time is between 4-10 business days and available ship methods are USPS or FedEx.
9.5"x8" Imagewrap Photo Book Specifications

| | |
| --- | --- |
| Product Family | Landscape Photo Books |
| Pricing | $14.99 + $.35/page (.50 per page for Premium, .40 for die cut) |
| Min/Max Pages: | 20 to 120 |
| Interior Paper | Digital Silk or Premium |
| Final Dimensions | 9.5"x8" (241x203mm) |
| PDF Upload Dimensions | 9.75"x8.25" (248x210mm) |
| Cover Binding | Imagewrap Hardcover or Die Cut |
| Spine | Imagewrap, Text available depending on size of book. Spine text not available on die cut. |
| Production Time | 5-10 Business Days, depending on binding chosen |
Softcover Landscape book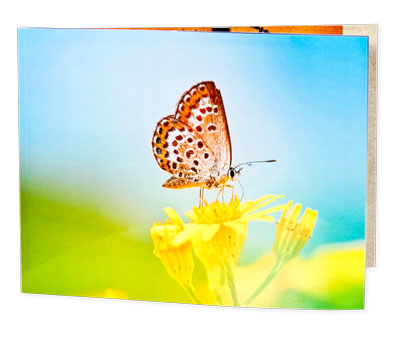 Our softcover books are built to impress with laminated covers that make colors pop and full-bleed images available on every page (and they're all acid-free, by the way).
Full wrap custom covers are available and make showing off your favorite panoramic shot a breeze.
9.5"x8" Bound Photo Book Specifications

| | |
| --- | --- |
| Product Family | Landscape Photo Books |
| Pricing | $4.99 + $.35 / page (.50 per page for Premium) |
| Min/Max Pages: | 20 to 500 |
| Interior Paper | Digital Silk or Premium |
| Final Dimensions | 9.5"x8" (241x203mm) |
| PDF Upload Dimensions | 9.75"x8.25" (248x210mm) |
| Cover Binding | Softcover |
| Spine | Perfect, Text available depending on size of book |
| Production Time | 4-7 Business Days, depending on binding chosen |