PrestoPhoto App
Our macOS application runs on your Mac to help you create books faster and easier than ever.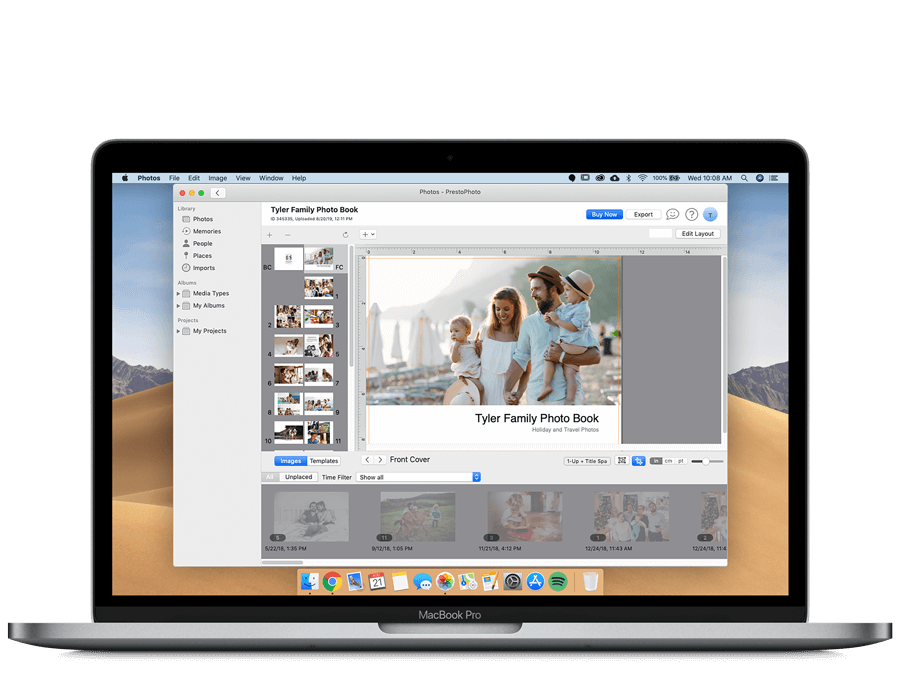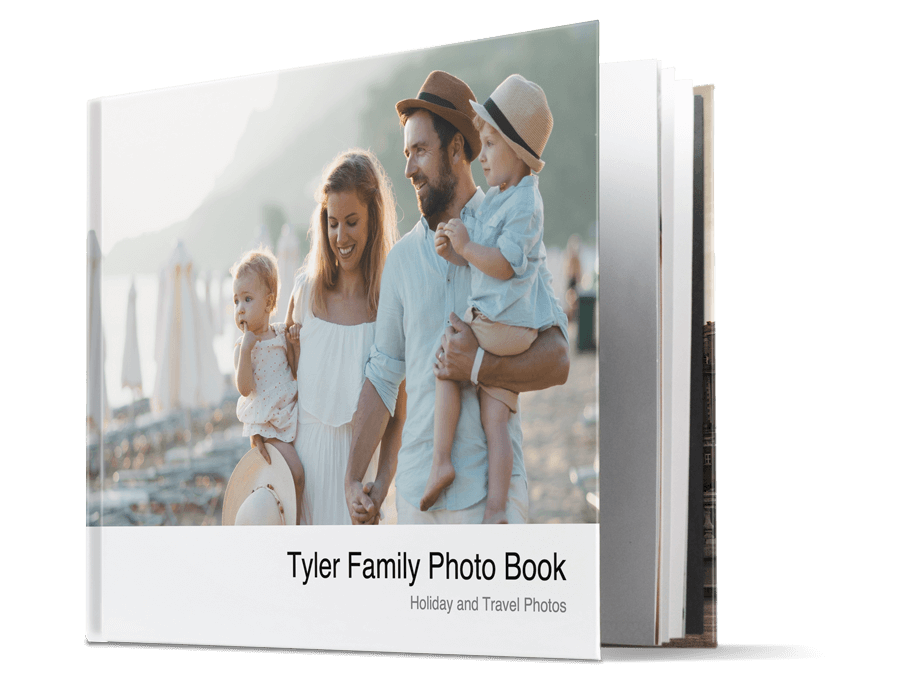 Getting the New PrestoPhoto App Today

Direct Download
---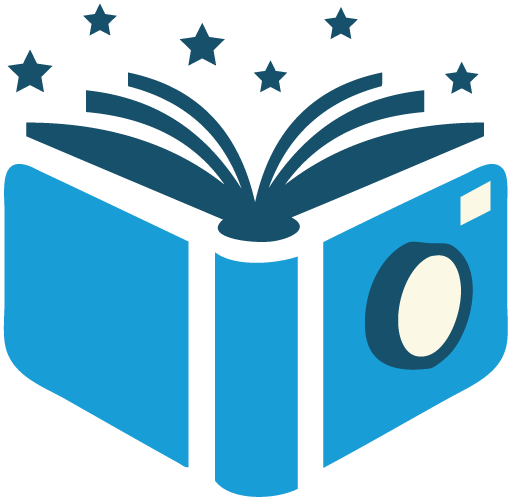 Current Release:
Version 2.0.2 Aug 22, 2019
Suggested Requirements:

macOS 10.13+ (High Sierra)
Apple Photos 3.0 or Apple Pages 7.0+

Minimum Requirements:

macOS 10.11+ (El Capitan).
Apple Pages 5.0
Still using Version 1.1 or the Apple Pages portion of the app? Check out our Apple Pages Help Page for more information.
Getting Started
Select your Photos, right click and select Create Book PrestoPhoto
Select your photo book orientation
Select your photo book size
Choose your photo book template, page number, and max number of photos per page
Customize your photo book and order!
Need help?
Check out our App Tips page for more information on photo book creation, how to's and more.
App Tips
Features
Customize Your Layout
Sometimes you just need to make a little change to get the perfect page. With our Edit Layout mode, customize the look of your page in a snap by adding, removing, or moving page elements like pictures and text to get just the look you want.
---
Time Filter
Looking through hundreds of photos can become disorienting when you are trying to put together a photo book. Organize your photos with our Time Filter function. We divide your photos up into organized sets by date, and that way you can pick and choose photos from different events or holidays in a flash. You can also toggle whether or not photos that are already in use are still in your photo tray, or show all of your photos in your project.
---
Dark Mode Support
Big fan of Dark Mode? So are we! PrestoPhoto App 2.0 has full support for Dark Mode in macOS 10.14+, so enjoy our app however you like!
---
Photo Book Export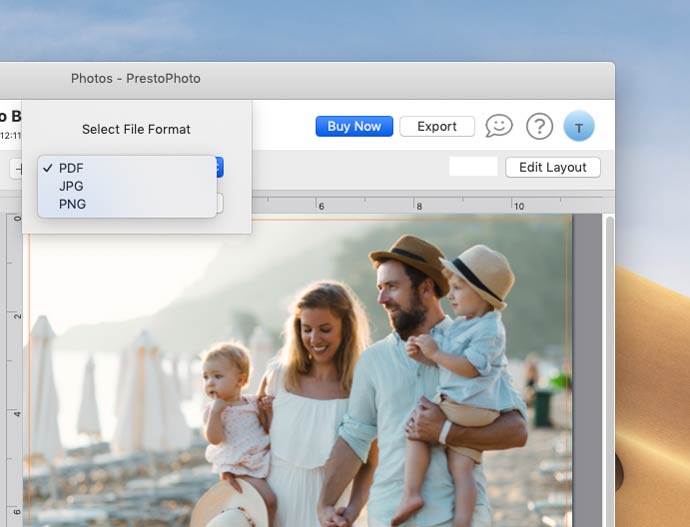 Need to send a proof of your photo book to someone, or just want to save a copy of your photo book securely for your records? PrestoPhoto allows you to do that! In the top right hand corner is an Export button, allowing for PDF, PNG, and JPG export of your entire book quickly and easily. You made it, you can do whatever you want to with it.
---
Photo Book AutoScale Support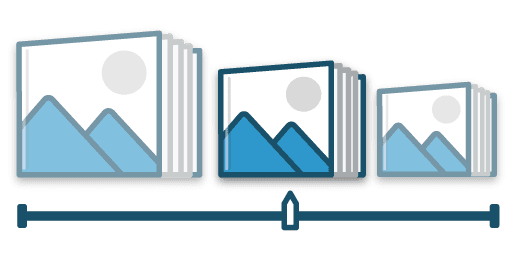 It's easy to print your photo book big, small, or both! Using our Auto-Scale feature, our Landscape Photo Books can be printed at the normal Apple Photo Book Sizes like 13"x10" and 11"x8.5", but are also available in 14"x11", 10"x8", and 9"x7". After all, we like options too! You can also change from large hardcover photo book to a small softcover photo book with ease, so you can order whatever book you want, however you like.
Looking for help?
Check out or Tips and Tricks page for information on placing or resizing your photos, changing background colors, and more!
Live Chat Hours: Monday-Friday, 9AM-5PM EST
Features and Fixes
August 24, 2019 at 12:00 PM Version 2.0.3 BUILD 20190824
Feature: Added Layout Flip options to flip your page layout vertically or horizontally
Fix: Template Bug Fixes
Fix: Background Opacity Bug resolved
Fix: Other Bug fixes
August 22, 2019 at 9:00 AM Version 2.0.2 BUILD 20190822
Fix: Fixed PDF export bug
Fix: Other Bug fixes
August 21, 2019 at 2:48 PM Version 2.0.1 BUILD 20190821
Feature: First release to the App Store
Fix: Bug fixes
August 12, 2019 at 3:28 PM BUILD 20190812
Feature: Dark mode support added for macOS 10.14+
Feature: Better template viewing and selecting controls
Feature: Change your template and re-flow your book at any time
Feature: New Picture Book Template options
Fix: New AI for photo placement and template selection when you create and flow and auto-flow a new book:

Determines the best photos for the photo book page
Chooses the most appropriate template based off of the shape and size of the photos for the page

Fix: UI updates from previous alpha and beta builds
Fix: Other bug fixes
July 24, 2019 at 1:06 PM BUILD 190724 #70c6d35d1
Feature: Product purchasing functionality added in app across all products
Feature: Duplicate your page designs with our new page duplication button
Feature: Added dozens of new template page options across Modern Lines and the Photo Essay templates
Feature: Template page filter to easily find the design that fits your needs
Fix: Work around macOS rdar://46115233 bug causing font color changing on save
Fix: Other bug and UI fixes
July 10, 2019 at 1:39 PM BUILD 190710 #8ce02788
Feature: Added new photo book project creation options:

Entering book page length instead of adding pages manually once book is created
Choice to Autofill book with photos or place photos yourself
Choose your template to start or fill the book with 1 page photo spreads

Fix: Fixed issue with TouchBar enabled MacBook Pro users crashing when adding text
Feature: Added new photo tray Time Filter feature, so you can sort through batches of photos with ease based off when the photo was taken.
Fix: Other bug and UI fixes
Want to test the latest Beta releases of the PrestoPhoto App?
Sign up to the beta tester email list below for the latest news about beta testing: